← Back
Considering Online Ordering for Your Restaurant?
These are the partner platforms to check out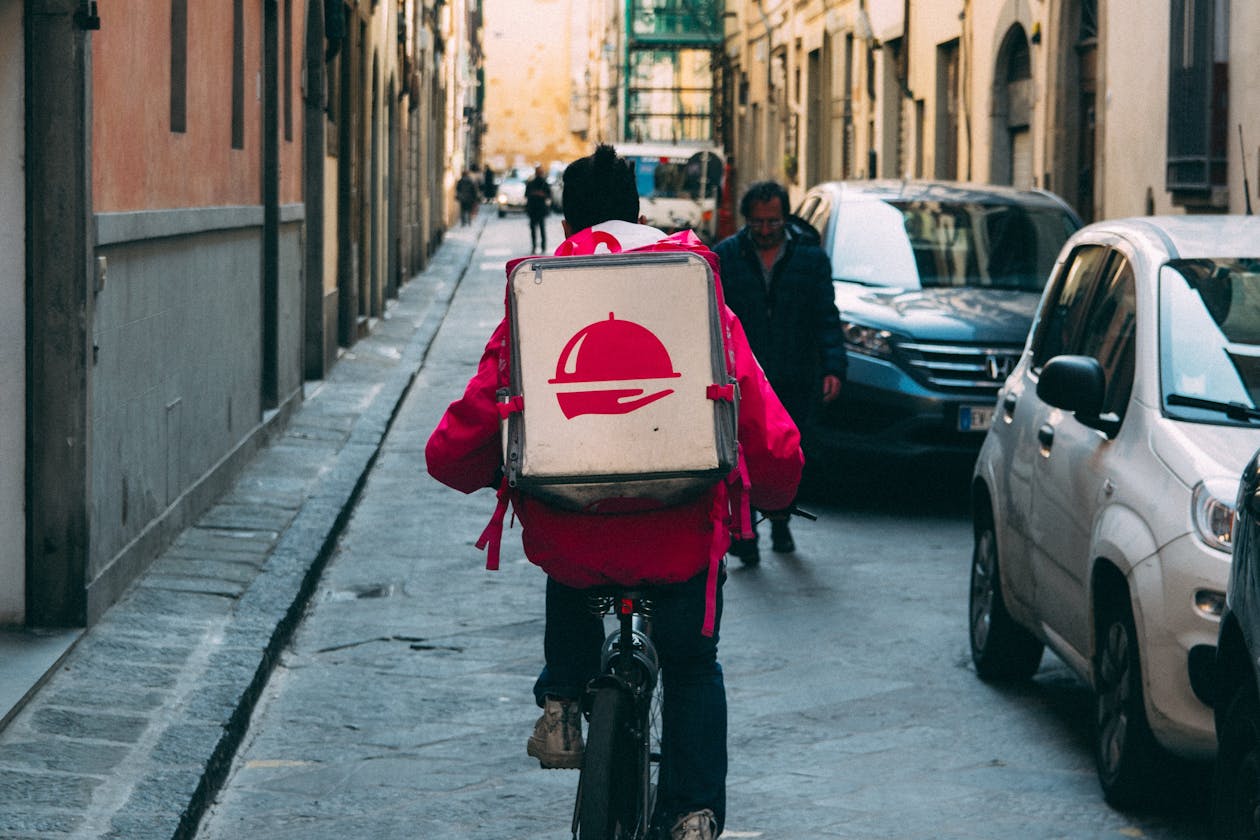 Today, technology is woven into the fabric of most restaurants. Alternative revenue channels and accessibility to food have changed the landscape. If you work in a restaurant, you've probably felt the growing demand for food delivery services. Guests more than ever are ordering online and eating off-premise. 60% of consumers order food online at least once a week and the market is expected to grow 10-20% globally over the next decade, from $35B to $365B annually. It's important to not only decide if online ordering is right for your restaurant but weigh all the services that are available to determine if they are a good fit for your business.
Grubhub
grubhub.com
Grubhub operates in over 2,200 cities. Grubhub handles the logistics from listing your restaurant's menu on its marketplace, processing the order and delivery. They operate on a commission model, similar to the other platforms in this list. The fee that Grubhub takes is up to 30% of each order. This 30% commission fee includes high exposure placement in the marketplace. Grubhub controls over 25% of the food delivery market share, which is a vast resource of potential new customers. Restaurant owners need to be aware of the expense that high commission fees can have on profit margins.
Pros: Grubhub has extensive experience working with restaurants across the country and has a large audience of users.
Cons: Since Grubhub services thousands of restaurants in each city you will have to pay higher commission fees to advertise on the platform so that guests can find you. Grubhub, along with other third-party services, doesn't share guest information with the restaurant, which means that restaurants cannot market directly to their customer base to drive loyalty and incentives.
Cost: Grubhub is a commission-based model of up to 30% per order.
DoorDash
doordash.com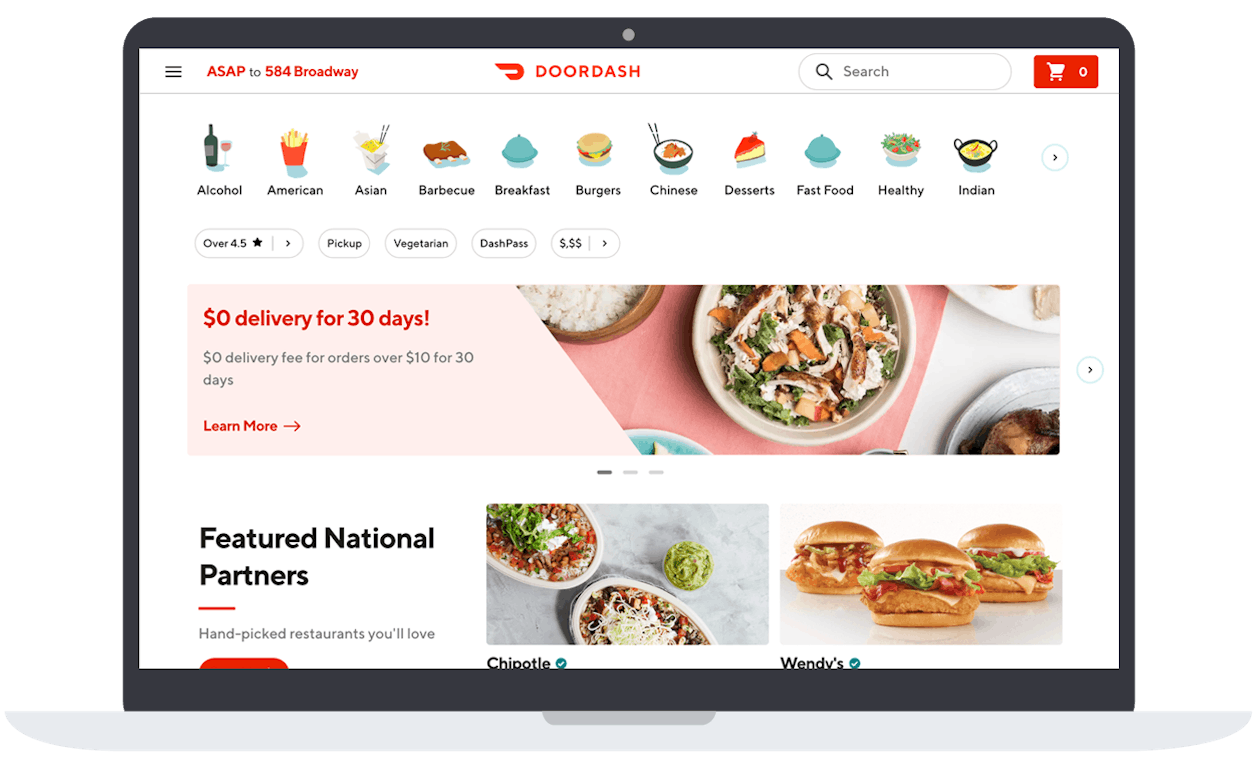 DoorDash operates in all 50 states, and partners with nationally recognized quick-service restaurants such as Wendy's, Chick-fil-a and Chipotle. DoorDash operates on a commission fee model. With every order placed, this fee can reach upwards of 30% if you advertise on the app. The benefit of advertising is increased exposure, which can lead to more sales but potentially a strained profit margin. Once an order is placed on the DoorDash platform and confirmed by the restaurant, their delivery "dashers" pick up the order and fulfill the delivery.
Pros: Doordash handles the order logistics all the way to delivery. Also, through marketing and advertisements on the platform, restaurants can potentially see increased business and sales.
Cons: DoorDash has a crowded marketplace that can prevent guests from seeing your listing and choosing you. Restaurants pay more per order to advertise on the platform and increase exposure.
Cost: Doordash is a commission-based model of up to 30% per order.
Postmates
postmates.com
Postmates is a marketplace for delivery and pickup orders but isn't limited to restaurants. Consumers can order groceries, alcohol, and more. They operate in all 50 states, largely in metropolitan cities. There are benefits to partnering with Postmates, including being featured on the platform for increased exposure, cutting delivery costs and slashing commission fees which are up to 30% per order. Restaurants may or may not be aware that they are featured in the Postmates marketplace. This is because Postmates links guests to restaurant listings through local searches and Foursquare. Guests place an order through the app, Postmates takes the order, calls it into the restaurant and sends a courier to pick it up. Restaurants who choose to turn off online ordering during busy times or restaurants who choose not to deliver at all, find this frustrating.
Pros: There is potential for increased exposure and sales because customers come to Postmates for more than just food. Postmates handles the order logistics and fulfills the delivery so your staff doesn't have to.
Cons: Postmates links guests to restaurants via search listings and Foursquare, which means that restaurants largely have no control over the ordering or delivery process.
Cost: Postmates is a commission-based model of up to 30% per order.
Uber Eats
ubereats.com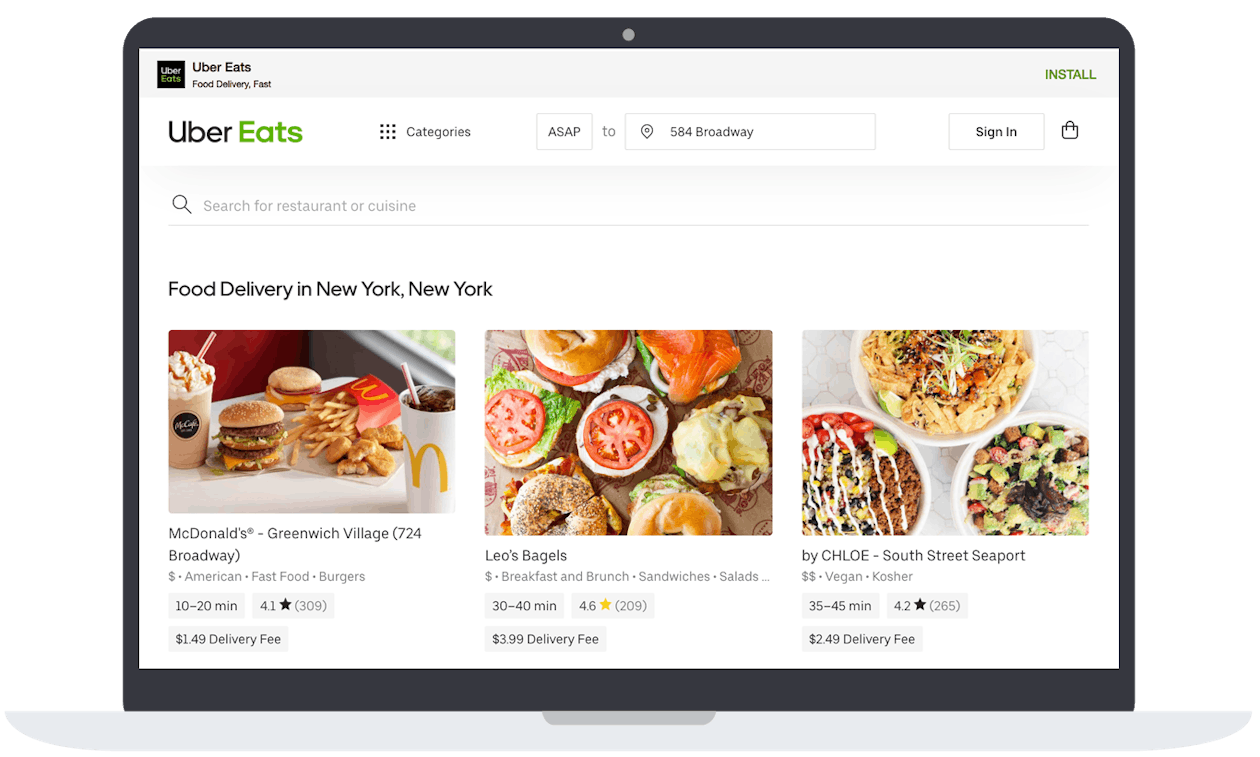 Uber Eats is a fast way to get food from the kitchen to your customer's door using their existing and vast fleet of ride-hailing drivers. In 2018, Uber Eats estimated it would operate in over 70% of the country by the end of the year. Restaurants in suburban and metropolitan areas can benefit from its services where cars are plentiful. By partnering with Uber Eats, restaurants pay a commission fee of 25-30% for each order placed through the online marketplace or app. Uber Eats has partnered with larger franchises such as McDonald's, so standing out in the marketplace can be challenging. Delivery by car can increase food quality and conditions versus other transportation methods, which serves the restaurant's interest in maintaining positive guest experience beyond the brick and mortar.
Pros: Uber's network of on-the-go consumers can place orders directly in the Uber app, increasing the potential for more orders. A large market of drivers enables quick pick up availability and delivery. Food quality and the guest experience is increased by better delivery conditions.
Cons: There are a lot of restaurants on the platform and includes national franchises which can overshadow your restaurant since high commission fees and partnership costs are manageable in their larger budgets.
Cost: Uber Eats is a commission-based model of up to 30% per order.
Caviar
trycaviar.com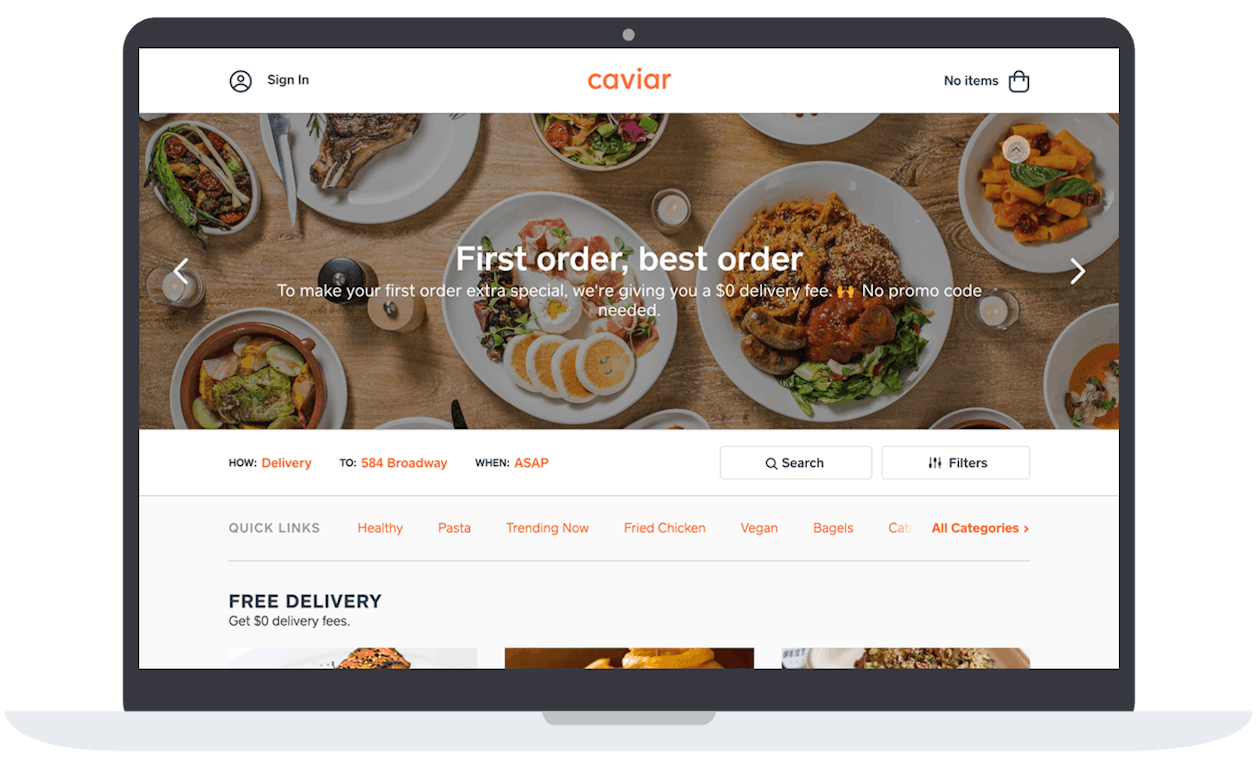 Caviar offers full-service delivery, from order to pick up to fulfillment, across select metropolitan cities on the East Coast, parts of California and the Pacific Northwest as well as Dallas/Fort Worth, Texas. Caviar takes a commission fee of up to 30% on each order for delivery. However, if a guest chooses to pick up their order, the commission fee is dropped to 12%, since the sale came through the caviar platform. Guests can order food for delivery from the online marketplace or via the mobile app. Caviar is selective about who it partners with, often partnering with more upscale or established restaurants in cities. This creates a more "curated" marketplace with competitors that are on a similar level.
Pros: Your restaurant is part of a curated community of esteemed restaurants. There is also the potential for increased sales through marketing on the platform. Caviar is full-service, connecting guests to the restaurant, handling the order logistics and delivery.
Cons: The commission fees are up to 30% on each order placed which can put a strain on profit margins. Even if a guest chooses to pick up the order, Caviar charges a 12% finders fee, since the order came through their platform.
Cost: Caviar is a commission-based model of up to 30% per order.
ChowNow
get.chownow.com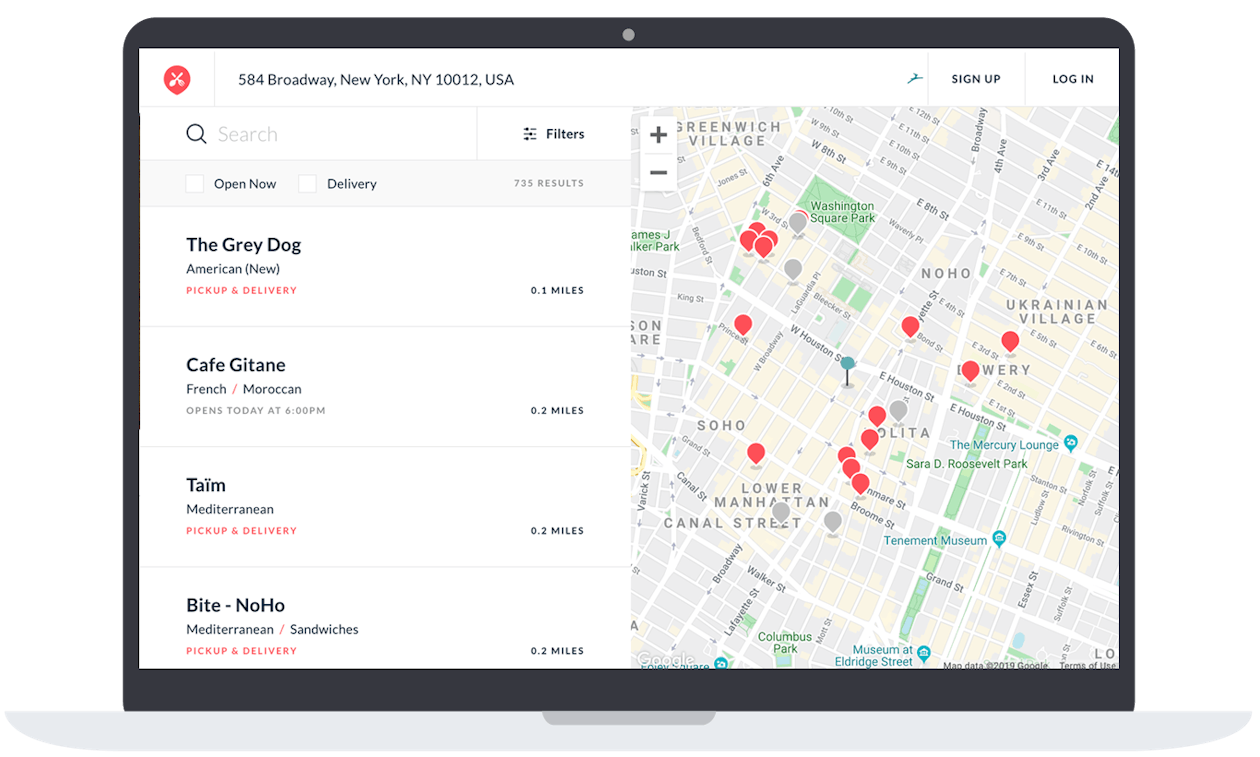 ChowNow is an online ordering platform that connects guests with restaurants but does not provide couriers. It's up to the restaurant to fulfill delivery for orders placed. ChowNow charges a monthly payment that averages $149/month rather than taking commissions on each order. There is a $399 setup fee per location that includes hardware at no additional cost. If an order comes from a first-time guest, there is a 30% finders fee charged on that order. ChowNow embeds the ordering experience onto a restaurant's website for desktop but not mobile (it opens a new window from the restaurant's website to ChowNow.com). ChowNow is a great choice for restaurants who already receive a lot of website traffic, keeping guests on your website which has the potential for upsells, such as if you sell gift cards, merch or tickets for events.
Pros: ChowNow embeds the ordering experience onto a restaurant's website for desktop users, which means fewer guests leaving your website.
Cons: For guests visiting a restaurant's website from a mobile device, the online ordering experience opens a new browser window to complete checkout through ChowNow. The ordering experience for your guests also has ChowNow's branding whether they order on your website or the ChowNow app.
Cost: ChowNow is a subscription service model of around $149/month.