How it Works: The Restaurant Experience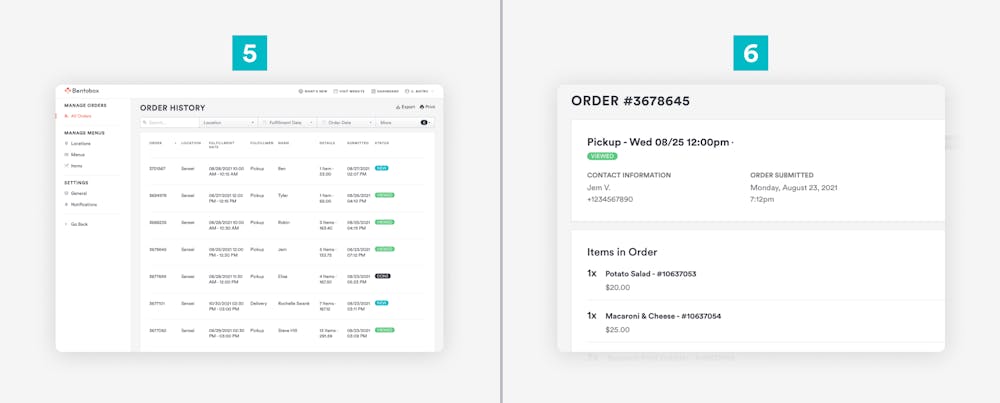 Pre-sell orders are logged in a live order history dashboard (Image 5), which includes key details such as fulfillment type, items ordered and price. The dashboard can be filtered by various conditions, including a custom date range, and is easily exported for sales reporting.
From the order history dashboard, you can click into any individual order to view a more detailed summary (Image 6). This includes more information than the dashboard does, along with the ability to mark orders as "Done" when they've been prepared or as "New" when you or a staff member need to come back to them (similar to marking an email as unread).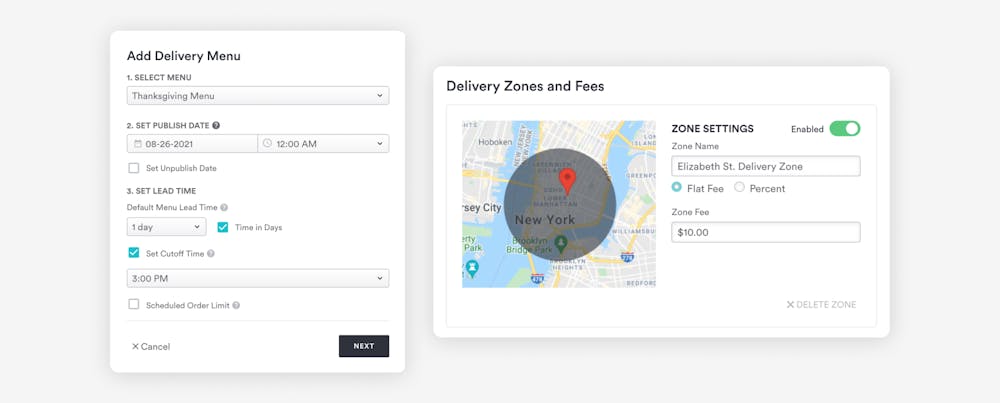 Using the "Manage Menus" section (above), you can easily customize menus by fulfillment date. For example, if you have a Thanksgiving pre-order menu, you can set it up months in advance but only have it appear when guests select the week of Thanksgiving as their pickup or delivery time.
Within each menu, you can also set controls such as daily order cutoff times and lead times. You can do this for the full menu or apply it to specific menu items. In the Thanksgiving example, this means you could require all orders to be placed 72 hours in advance — or you could set it at 24 hours unless they order a turkey, in which case it's 72 hours.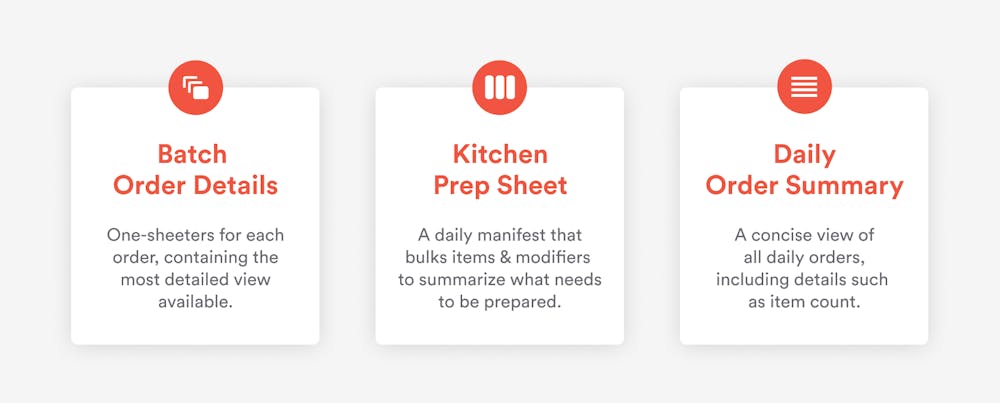 If you set a custom date range in the dashboard and click "Print," you can access three new documents designed to streamline kitchen operations: Batch Order Details, Kitchen Prep Sheet and Daily Order Summary.
Each document serves a different purpose and might prove more valuable to one restaurant than another, based on their existing operations. To illustrate how they can all be used together, see the suggested workflow example below:
Print out the Batch Order Details, providing a one-sheet of each order that you can attach to each order's packaging.

Refer to the Kitchen Prep Sheet and prepare all items across the board for the day (e.g., 10 taco trays, easily seeing variants for each tray).

Assemble the contents of each order by taking the items from Step 2 and referring to the one-sheets from Step 1.

Refer to the Daily Order Summary to ensure you have the total count of items for each order. You can also share this summary with your delivery staff, arming them with all delivery addresses in one concise view.
If you'd like more information about these documents, click here to schedule a demo and our team will follow up shortly.