A roundup of 2019's best restaurant websites
As we do each year since starting Beyond The Meal, we're rounding up our favorite restaurant website designs. It's always difficult to pick from the hundreds of websites we've launched so far this year but the excitement to show them off is real. We've updated our list to include even more fantastic designs. (Re)introducing the Best Restaurant Websites of 2019.
New York City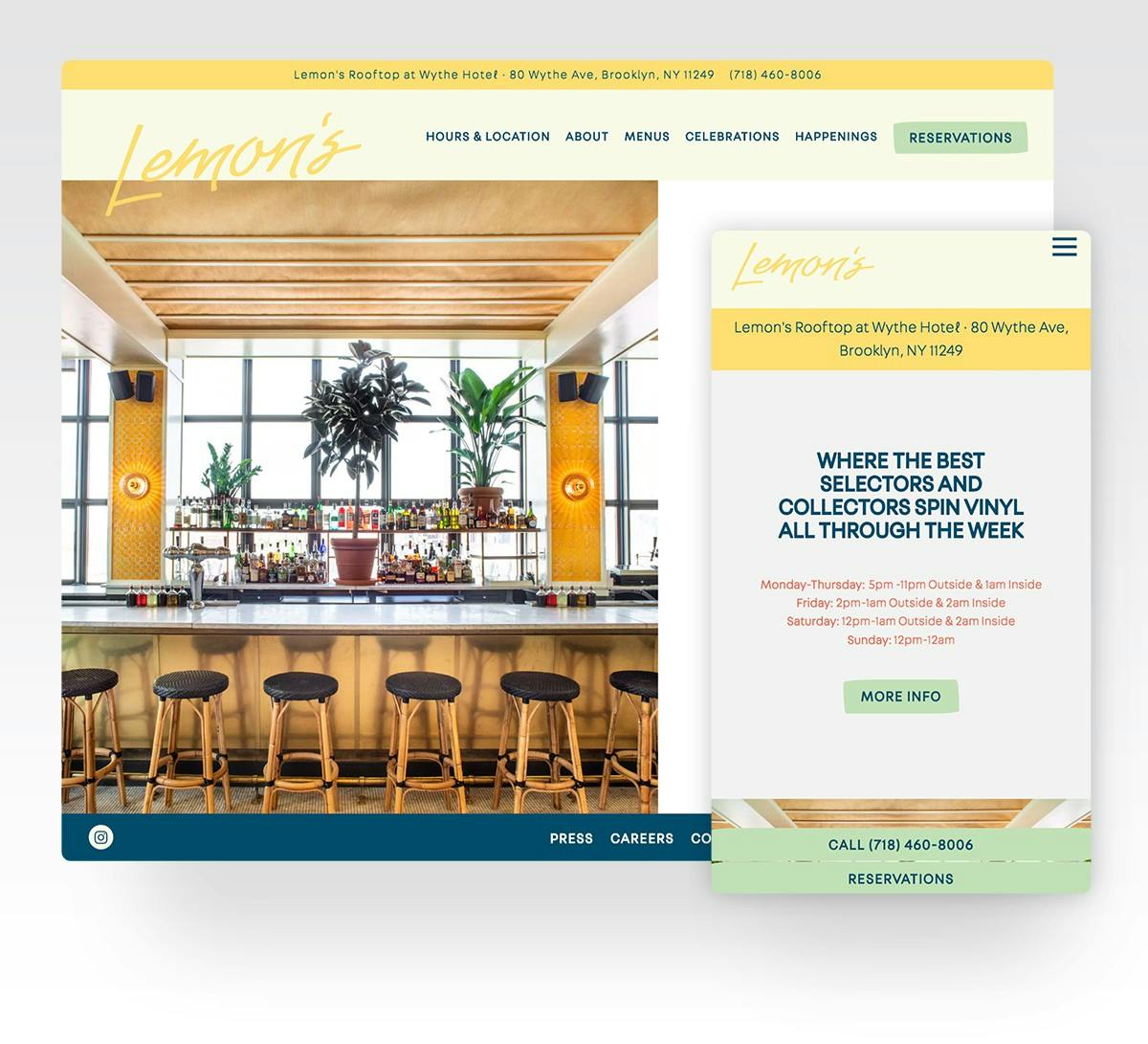 Located high up in Brookyn's Wythe Hotel, this concept from Jon Neidich (ACME, The Happiest Hour) and chefs Jake Leiber and Aidan O'Neal (Chez Ma Tante) brings together retro, 1960s Italian eating and drinking culture with NYC's best vinyl DJs. The website promotes its open and airy aesthetic through imagery and lemon yellow color choices. Their "Happenings" page details their DJ schedule for those who are looking for a night of great music, food and drinks—with a great view of the Manhattan skyline.
Toronto, ON
A Canadian Brasserie, with a nod toward traditional french cuisine, Reign is one of Toronto's most popular restaurants. They position the restaurant as "big-city flair with a hint of country nobility." Its branding shows online. Their website exudes a type of sophistication one would find inside, with grandiose imagery of dishes and rich interiors—subtle notes of the evergreen and gold color palette is in assistance. An up-to-date music page showcases its monthly live entertainment.
Las Vegas, NV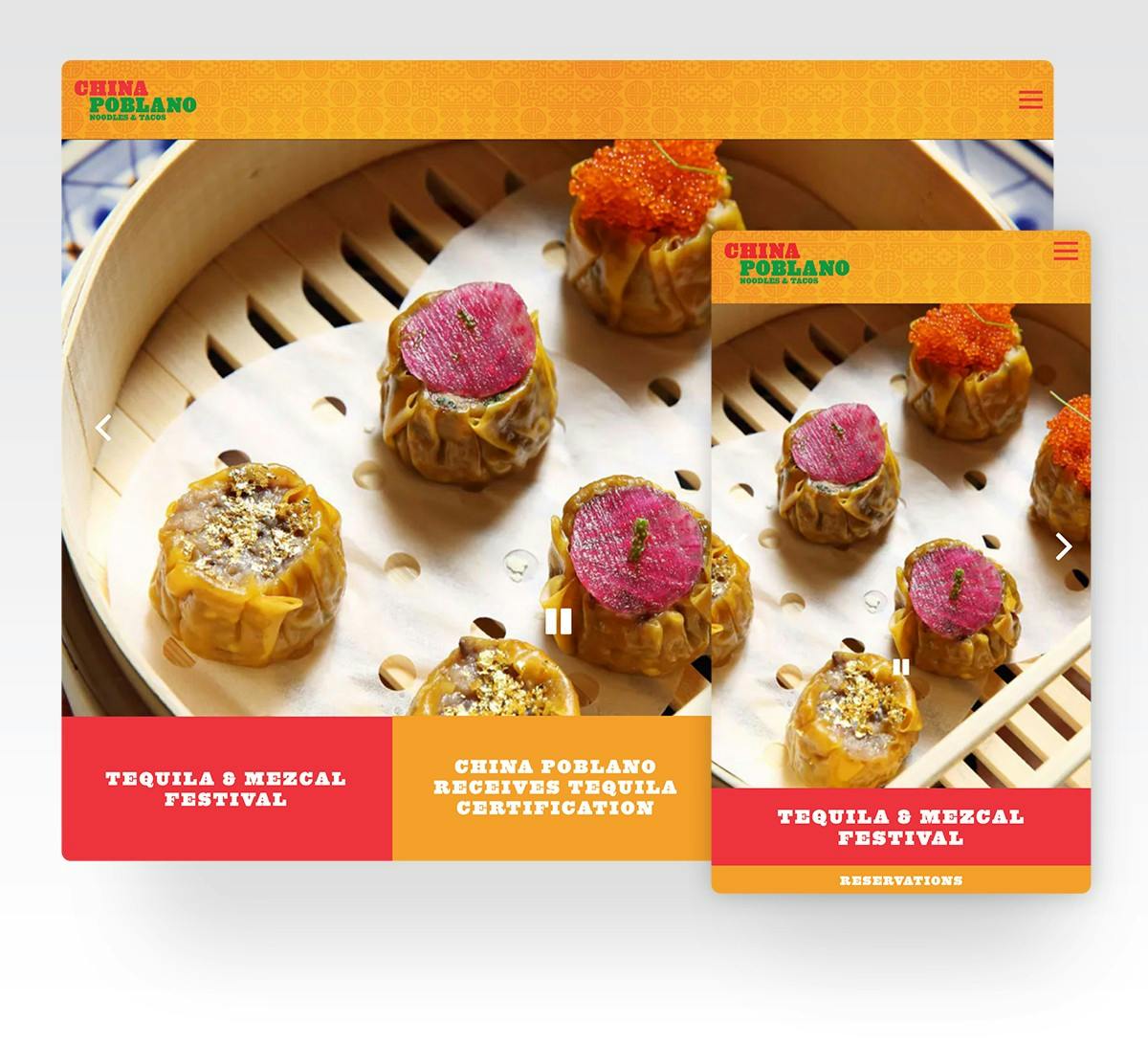 Nobel Peace Prize Nominee Chef José Andrés has had a prolific career as a chef, restaurateur, author and activist, most recently flying into the path of Hurricane Maria in Puerto Rico and Hurricane Dorian in the Bahamas, respectively, to help feed thousands under his disaster relief organization, World Central Kitchen. China Poblano is the latest concept from Andrés, mixing two symbiotic food cultures: Chinese and Mexican. The website highlights the two cultures through bright colors and symbolic and textural iconography. The Happenings page details the latest events taking place at The Cosmopolitan luxury hotel-based restaurant.
Miami, FL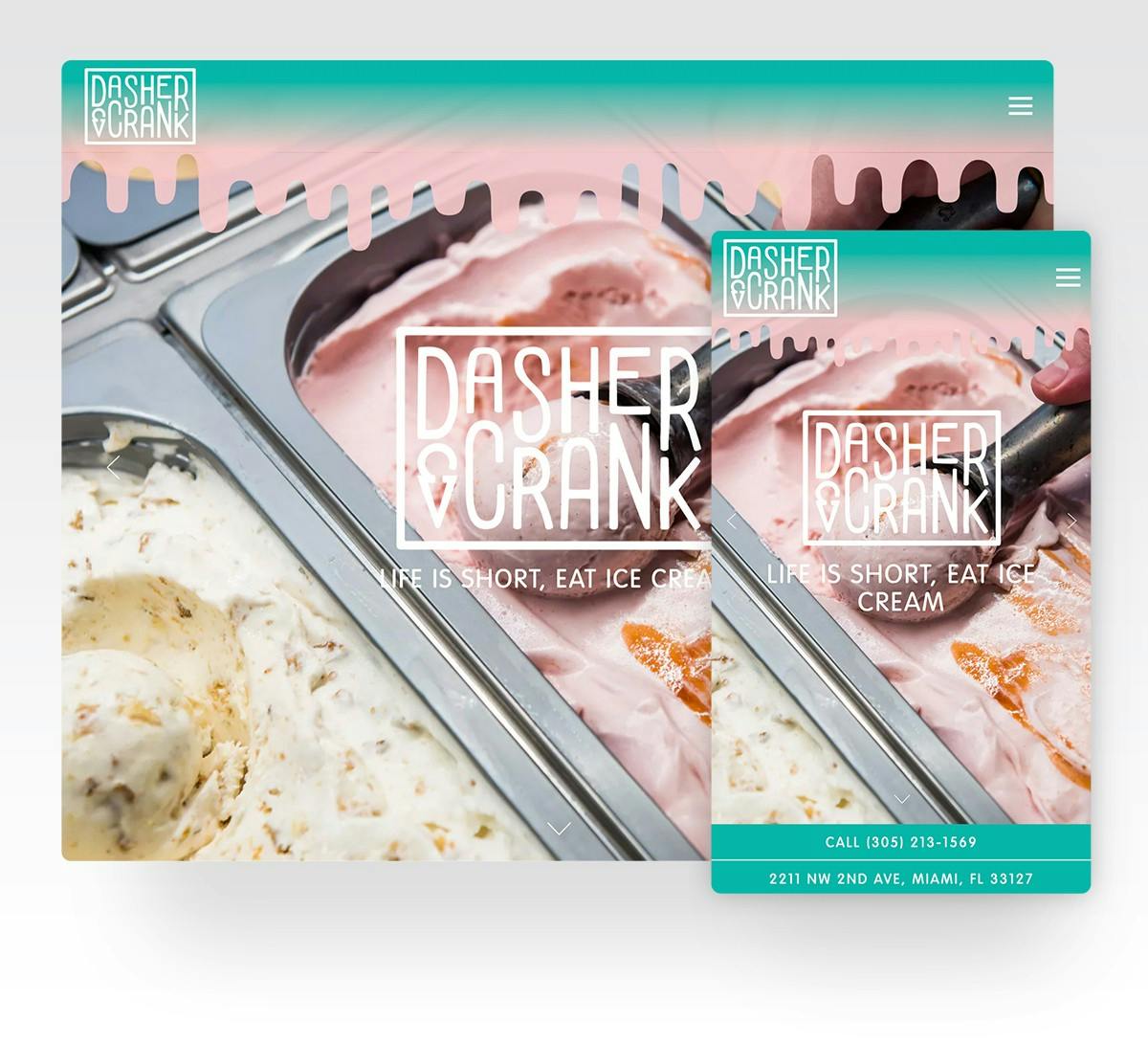 "Life Is Short, Eat Ice Cream" is the tagline for Dasher and Crank, a Miami-based ice cream shop. And it's the first thing that welcomes you to their website. We couldn't agree more. Their website stands out from the competition with a pastel pink and blue color palette and a navigation bar that is designed to resemble melted ice cream. Their online store sells branded pink t-shirts and hats, making this one of our favorite website designs of this year.
Minneapolis, MN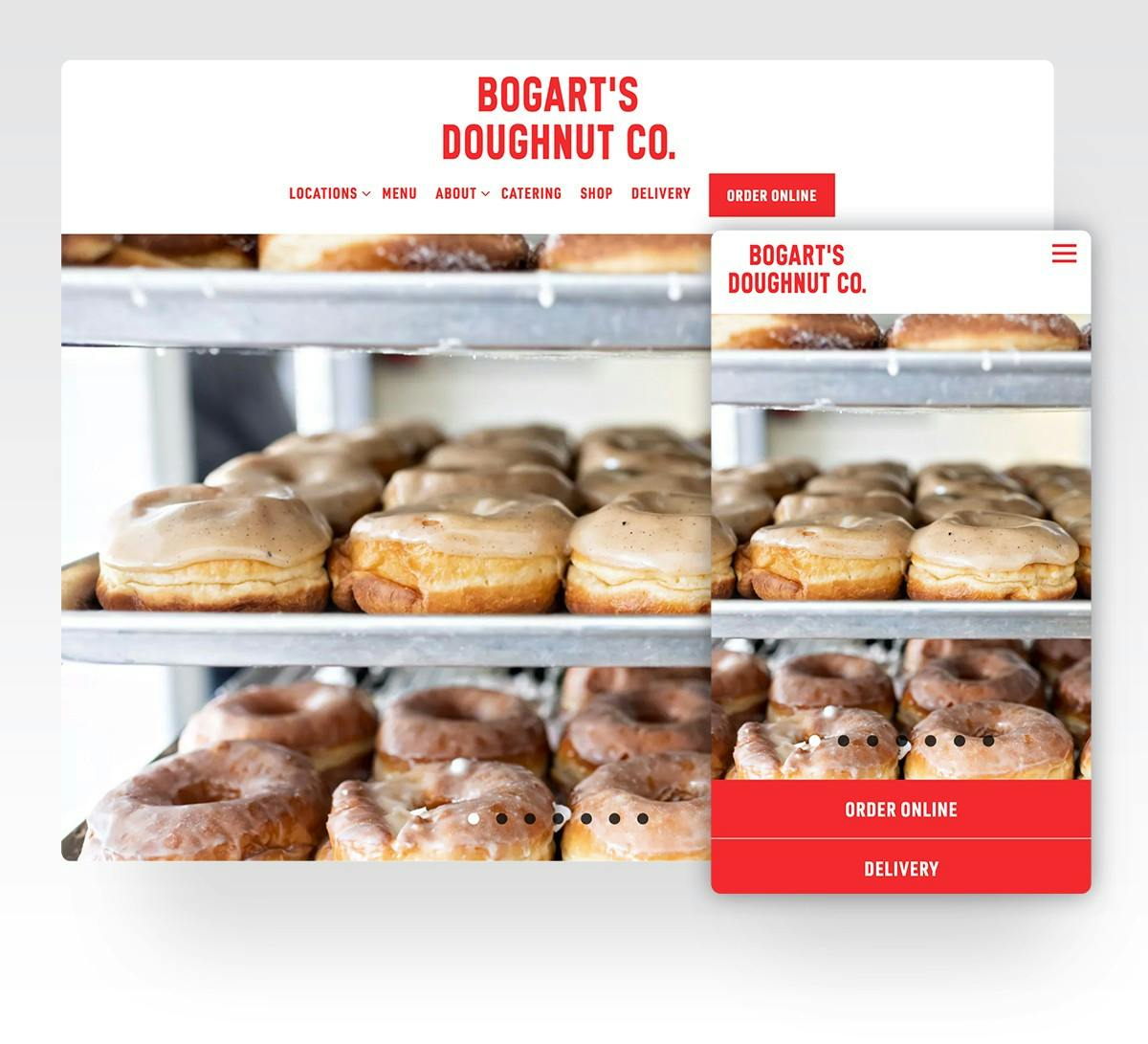 What's not to love about Bogart's Doughnut Co. website? The photographs of perfectly round pastries showcasing each menu offering? The online store where guests can purchase gift cards, t-shirts for their kids or bags of Bogart's coffee blend? This Minnesota-based company boasts three locations and their website even includes a "Help Wanted" section with a form for potential new hires to fill out and submit a resumé.
Waco, TX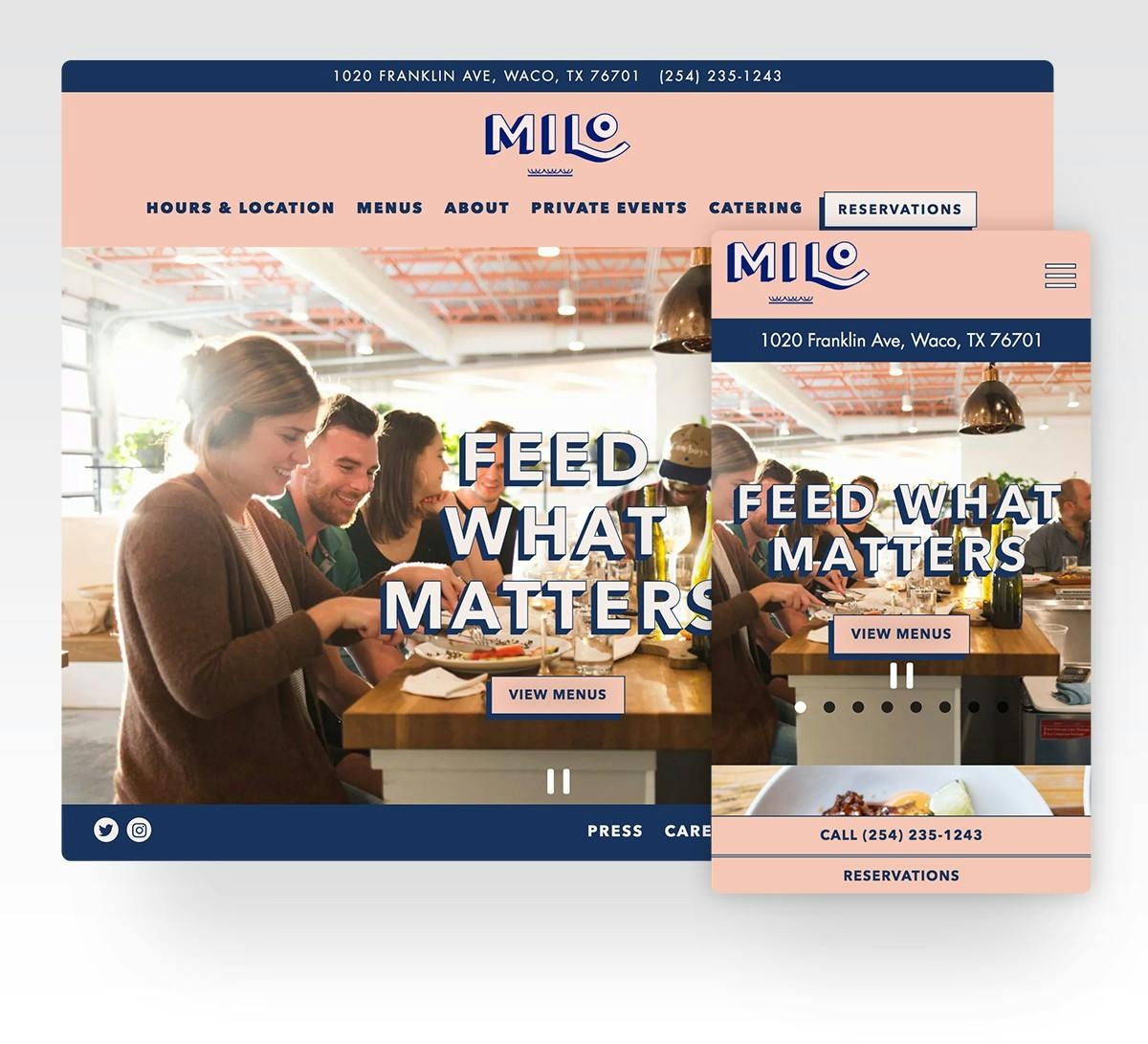 We like everything happening with Milo's website. The welcoming and bright, yet humble color scheme, translates well with Chef Corey McEntyre's southern-style cuisine. "Feed What Matters," their tagline and mission statement, greets visitors on the homepage for both desktop and mobile, with sticky buttons on the mobile version to call or make a quick reservation.
Charlotte, NC
Bardo is an eclectic, chef-driven restaurant in Charlotte, NC's South End neighborhood. The website is a keen reflection of the atmosphere and ethos of the restaurant's name; Bardo is a term in Tibetan Buddhism for the interval, or existence, between death and rebirth. Its functional sidebar navigation allows visitors to easily navigate between menus, hours and location and even purchase tickets for classes and special dinners.
Columbus, OH
This Columbus, Ohio restaurant website successfully mirrors that of its dining experience. Ambiguous photography exudes a mood. Sparse, minimalist font humbles a plant-forward menu and sparks curiosity. This truly unique website does more with less—a common consequence of great design.
New York City, Jamaica, Dubai
Vibrant, colorful branding brings this Caribbean-influenced staple to life online. The eclectic, cool and friendly atmosphere make Miss Lily's a destination for booking rum and jerk chicken fueled events. With simple-to-fill-out inquiry forms, your next island party is a record flip away.
Palm Beach, FL
Florie's is located in the Four Seasons Resort - Palm Beach and is in partnership with three-Michelin star chef Mauro Colagreco—his first in the U.S. The restaurant is influenced by his personal passion for gardening, Florida's produce and the coast. With a decadently designed and uniform website, the restaurant's online experience is consistent with the physical. Great imagery transports you to the ocean view terrace, cocktail in hand.
Detroit, MI
The recently opened Penny Red's serves up buckets of fried chicken and honey-butter biscuits in the fashionable Shinola Hotel in downtown Detroit. Their website is a great reflection of their charismatic interior: Bold, minimal and eccentric—using GIFs and textural elements to draw the visitor in. It's safe to say, the hotel restaurant bar has been set high.
Hamilton Park
New Haven, CT
"Hearty, locally-sourced American fare," is what Michelin-star chef Matt Lambert brings to his latest New England concept. The interior focuses on transparency with an open kitchen and a seamless flow between the dining area and lobby. The website is reflective of this, with large, hi-resolution photography and a bottom navigation, setting itself apart just enough for its open minimalism to make a statement. Hello, house-made charcuterie.
New York City
Led by Danny Meyer, this Union Square Hospitality Group restaurant is an NYC original. Having recently gone through a rebrand, their website was redesigned to showcase their new and dynamic illustrations, further defining their image in this increasingly competitive BBQ city.
Seattle, WA
Quality Ramen has no brick and mortar, however, serves the Puget Sound with delivery, even an online catering store for larger orders—making it unique on this list. Great branding and a clean layout beckon you to order Spicy Miso for 10 with steaming hot broth, toted in ergonomic jugs.
Lawrence, KS
A dream of owners Codi and Simon Bates and built off of the success of The Burger Stand, their first restaurant together, Bon Bon is the little cafe for all. Bon Bon's mission is for fun, creative dishes to be enjoyed by the Lawrence, Kansas community at large, its staff and suppliers. With pastel colors and popish font choices, this easy functioning left-navigation website contributes to their expressive mission of love for their guests.
New York City
The James Beard Award-winning chef-duo from o ya warmly invite you to Covina, their American neighborhood restaurant in the Flatiron district of NYC. Through great photography on their website, you get a real sense of the food and cozy atmosphere. Even directly place catering orders to enjoy outside of the restaurant with colleagues and friends. We've heard lovely things about the tondo sandwich.
We believe hospitality begins online.
Schedule a Demo
Subscribe to our email newsletter