← Back
Before & After: The Best New Restaurant Websites of 2021
A sample of last year's most impressive restaurant website launches — before and after BentoBox.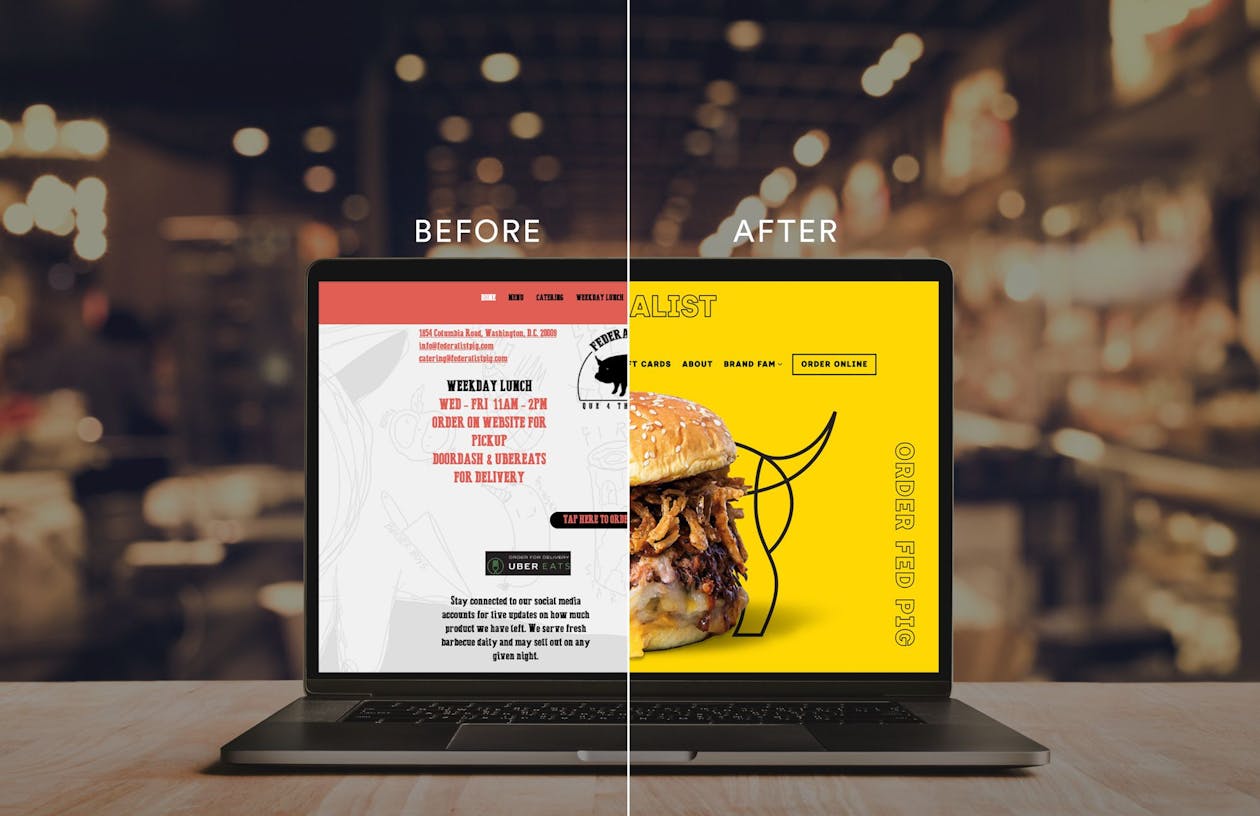 In 2021, BentoBox launched more than 2,300 new restaurant websites. From luxurious steakhouses to greasy spoons, restaurants across the country — and the world — elevated their online presence with beautiful design and revenue-driving commerce tools. We've rounded up some of the best transformations to help you plan your own website updates in 2022.
Federalist Pig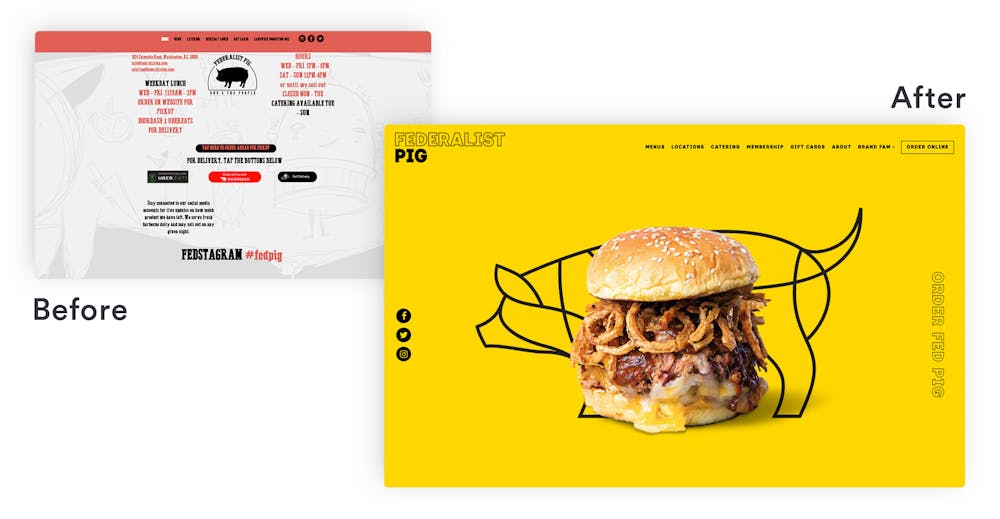 Owned by local restaurateur Steve Salis and featured in Netflix's House of Cards, Federalist Pig has emerged as one of Washington, DC's most iconic barbecue joints. After launching with BentoBox in 2021, it now has an iconic website to match. The homepage puts food photography front and center — literally — and supports it with a vibrant design system that features bold colors and playful line illustrations. Users can easily navigate to menus, place orders or even view a page with comprehensive reheating instructions for takeout.
Black Sheep Kitchen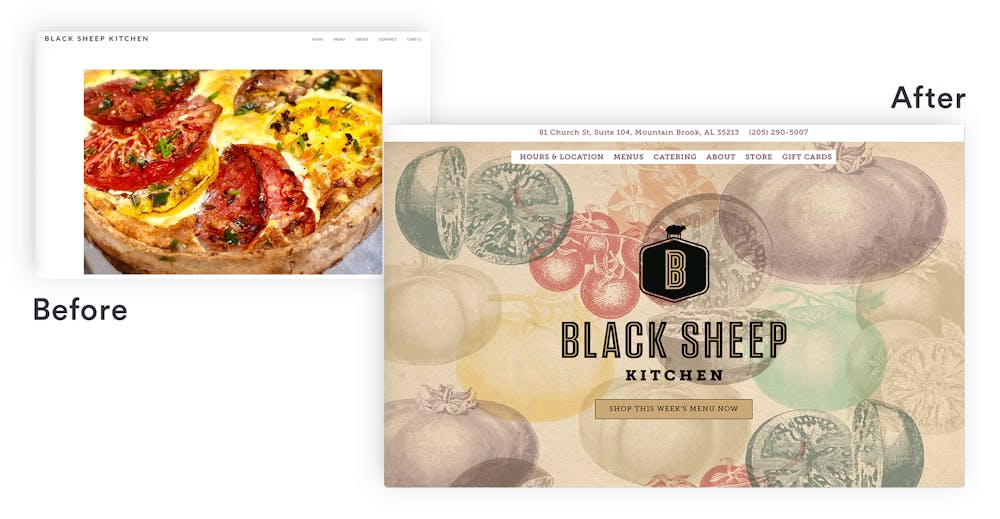 Black Sheep Kitchen's website leads with a collage of multicolored tomato illustrations. In addition to establishing the brand's quirky vibe, this perfectly captures the ethos of its menu, which changes every week but is rooted in "elevating simple ingredients to delicious new heights." The website doesn't just tell a story, though. It also includes commerce features such as online ordering, digital gift cards and a merchandise store that sells cookbooks by its owner, long-time Southern Living food writer Julie Grimes.
Lorelely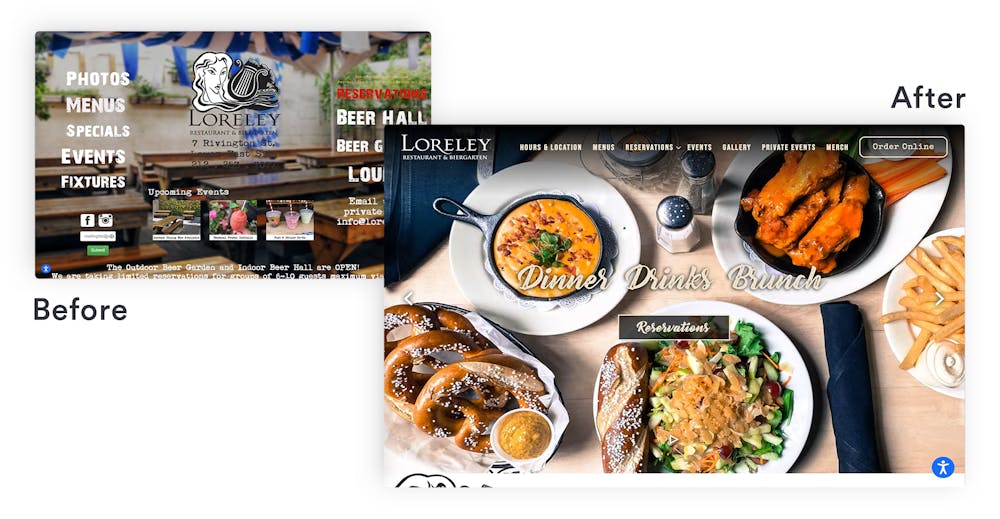 Loreley calls itself a "first-of-its-kind biergarten," and its new website backs up that claim. The homepage greets users with a carousel of custom photography, including elevated bar food, indulgent drinks and ornate holiday decor. In addition to viewing seasonal promotions and making private event inquiries, guests can place direct online orders that save them on third-party fees and save restaurants on third-party commissions. BentoBox's online ordering platform is optimized for conversion — which is especially effective when restaurants like Loreley pair it with photography of menu items.
Bathtub Gin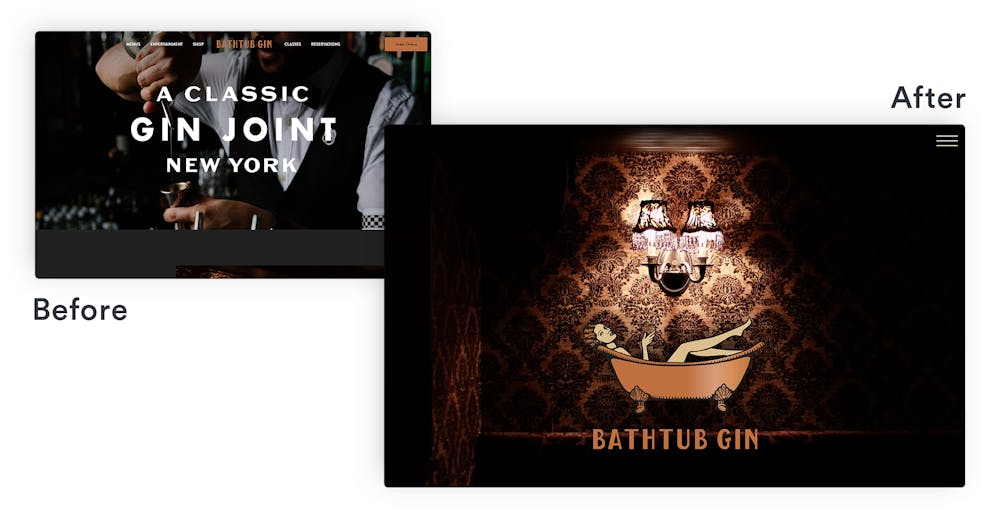 Bathtub Gin's old website told people it was a speakeasy. Its new website makes them feel it. The art deco trim, gold borders and contrast of light and dark transport users to the Prohibition era, perfectly evoking the mood of the nightlife hotspot. After navigating to their desired location — New York or Los Angeles — guests can then reserve tables, view menus or scan the upcoming event schedule including live music, burlesque shows and disco nights.
Aloha Beer Company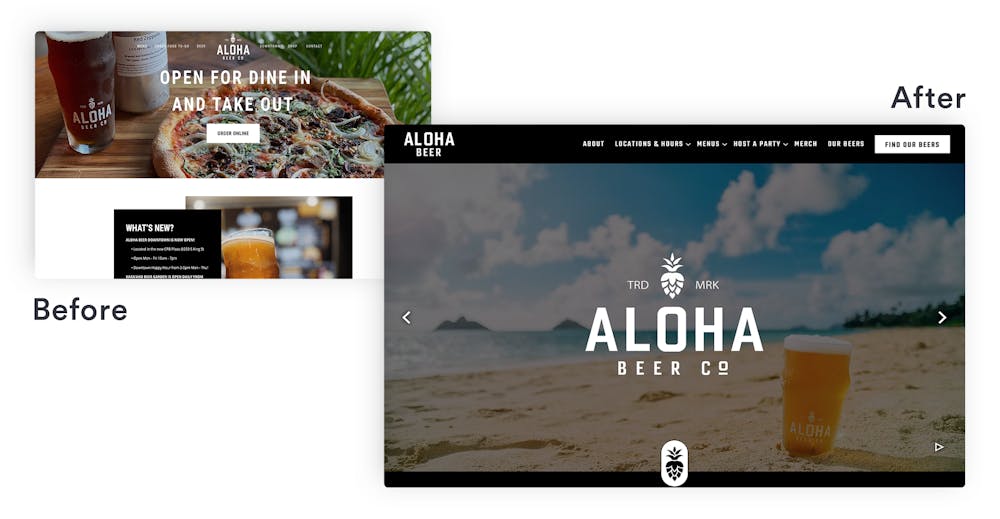 In its own words, Aloha Beer Company believes that "everyone deserves to be immersed in the expansive and warm feeling that is special to Hawaii." That belief comes through immediately on its new website, which features scenic lifestyle photos of its beers in island settings. When guests first land on the homepage, a pop-up notification alerts them to new on-site happenings such as Taco Tuesdays and Sunday Flea Markets, while the rest of the website provides information such as restaurant partners that serve Aloha's beers.
Ready to transform your own restaurant website?
Leave your email, and our team will schedule a demo.
Baba's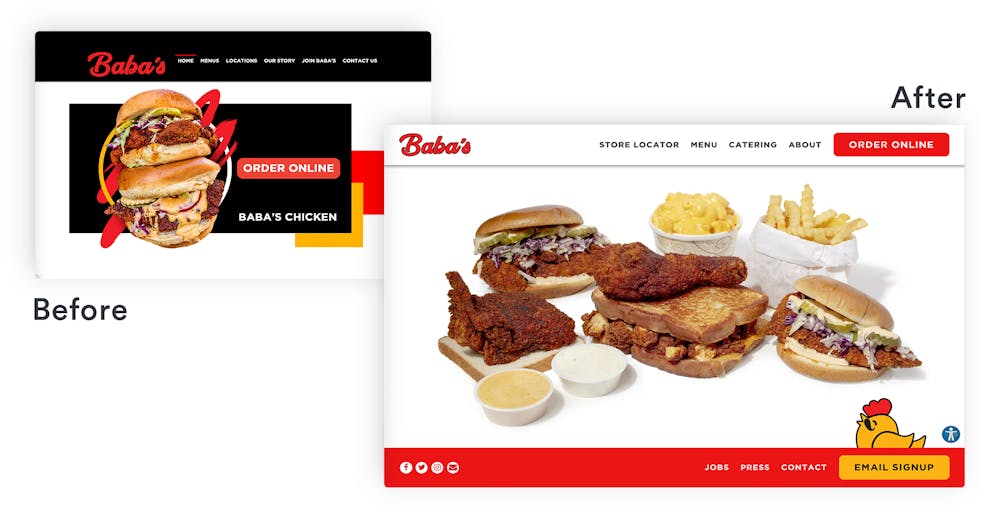 Baba's redesigned website packs as much flavor as its menu does. The California-based hot chicken chain uses red as a prominent statement color, along with white backgrounds and creative design elements to help the food photography pop. Given how "Instagrammable" its product is, the restaurant also makes smart use of the Instagram feed integration at the bottom of the page. Bonus points for writing a clear, compelling restaurant description — something you can read more about here.
Peachy's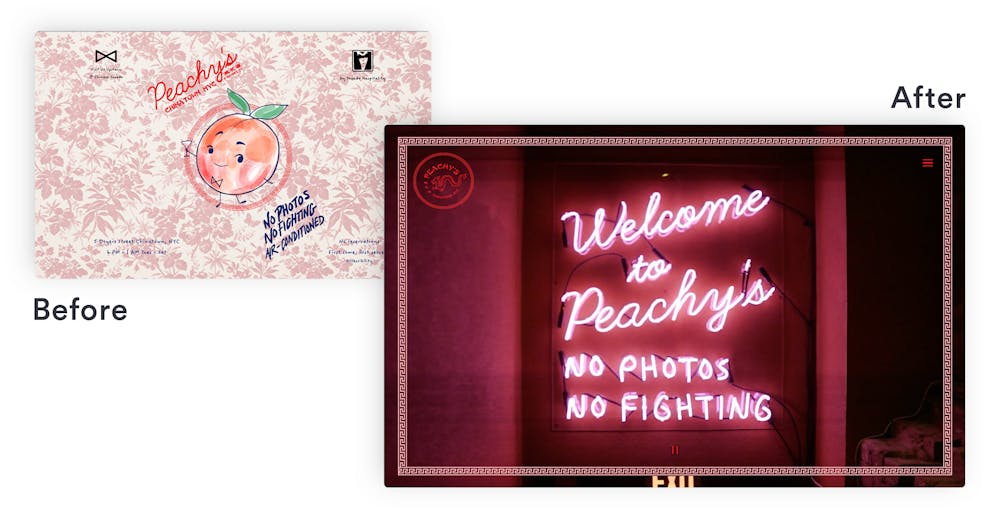 The neon lights and kinetic energy of Peachy's perfectly capture the spirit of nightlife in New York City's Chinatown. Now, it has a website that captures that spirit as well. The homepage features video snippets of the cocktail lounge's chic decor, with quick cuts that convey a sense of energy and activity. Once guests are drawn in by the video, the hamburger menu in the top-right directs them to make reservations and private event inquiries.
Asbury Lanes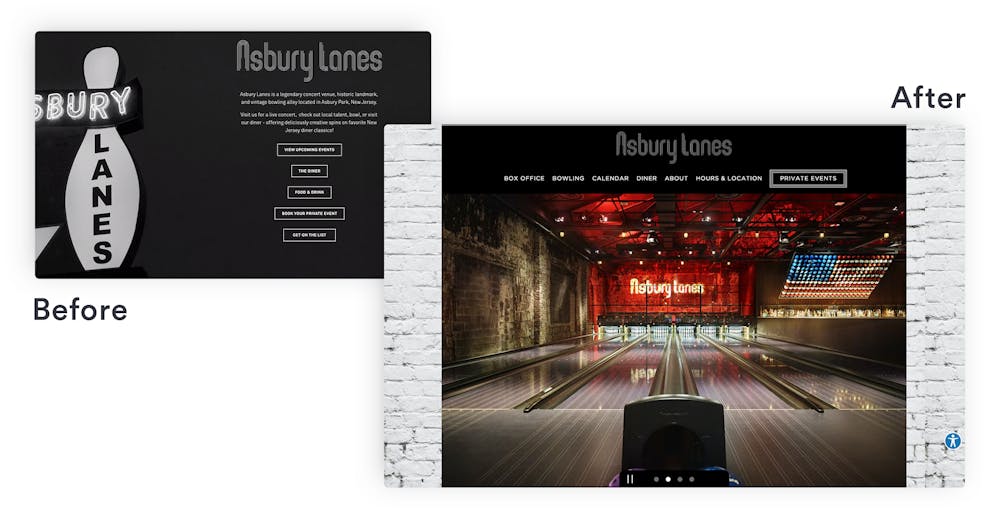 With a space as unique as New Jersey's Asbury Lanes, photography is essential for capturing an ambiance. On its new website, the first thing guests see is a carousel that scrolls through photos of the bar, the diner, the event stage and the bowling alley, highlighting each of the famous party venue's many amenities. Further down the homepage, the website makes brilliant use of BentoBox's Instagram feed integration, using it to showcase posters for upcoming musical performances.
Le Farfalle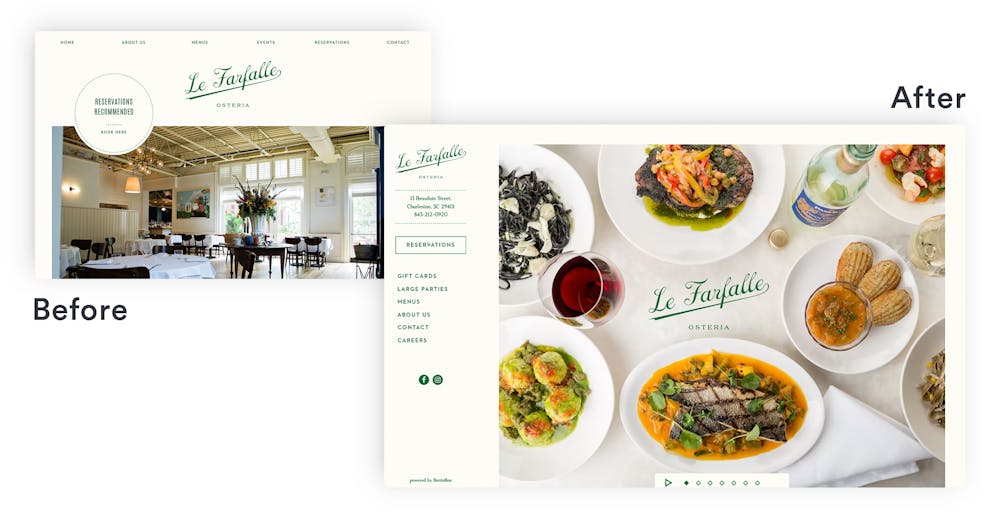 Le Farfalle, a neighborhood osteria in Charleston, SC, launched a more dynamic website in 2021. Rather than a single photo, the carousel atop the homepage features a combination of styled food photography and images that capture the airy, natural-light ambiance of the dining room. In addition to selling gift cards and accepting private event inquiries, the website also has a Careers page that describes open roles and makes it easy for job seekers to apply — an important consideration given the state of the restaurant workforce.
Disco Cheetah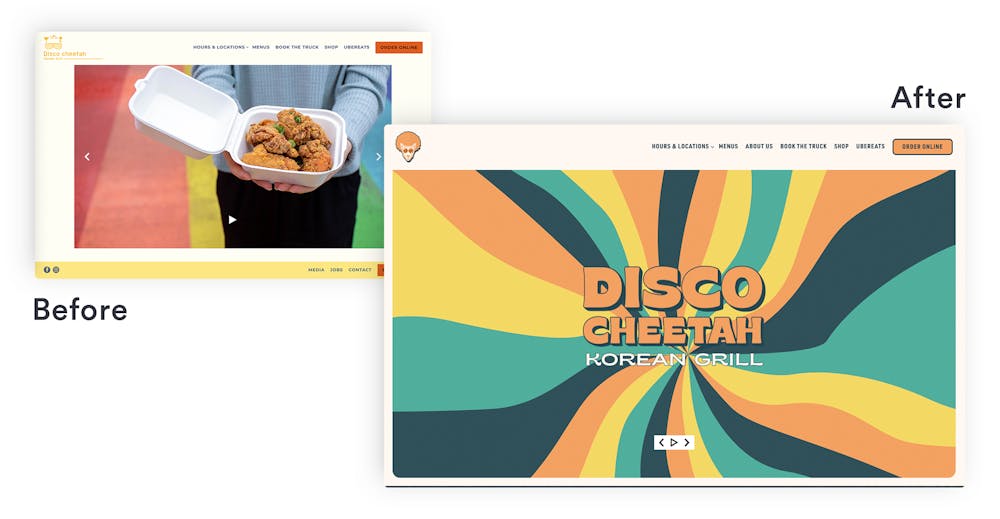 Disco Cheetah already had an optimized website, but its 2021 design refresh was too good to ignore. The first thing guests see when they land on the homepage is the groovy spiral design, which mirrors the food truck's iconic exterior and reinforces the brand's style. In addition to viewing menus and placing online orders, guests can use the website to submit private event inquiries to book the truck for catering or purchase digital gift cards for friends.