← Back
Super Bowl Promotion Ideas for Restaurants & Bars (2022)
On-premises Super Bowl events will return this year, but restaurants should plan for another year of increased takeout & delivery demand.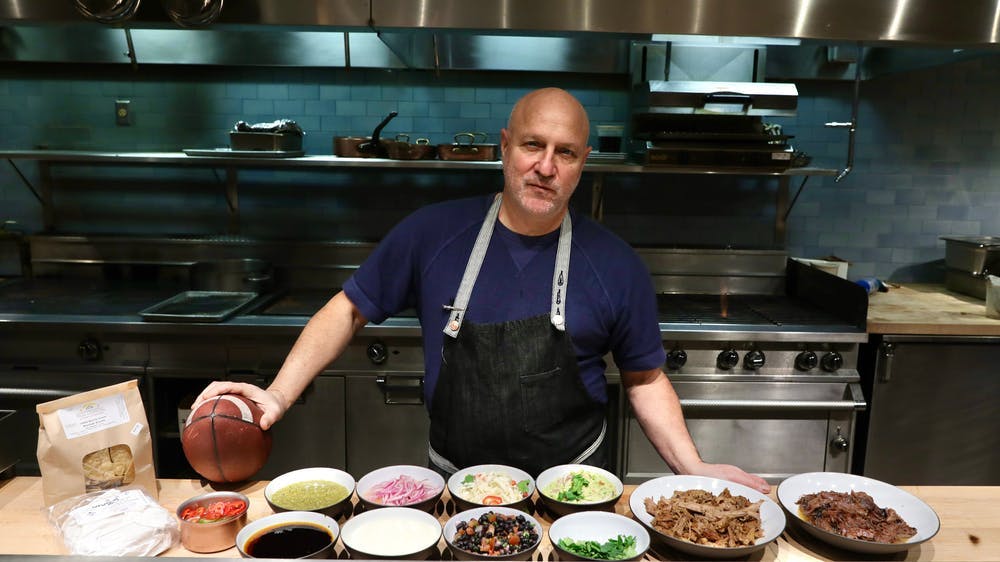 The 2022 Super Bowl will be played in Southern California, but it will be celebrated in bars, restaurants, living rooms, basements and backyards across the country.
Unfortunately, this year's game has a COVID-shaped cloud hanging over it. The Omicron wave of the virus spread quickly in December 2021, and while it's extremely unlikely to affect or delay the "Big Game," it leaves restaurants with another difficult planning decision: Should they expect high demand for on-premises Super Bowl parties? Or will most of their Super Bowl business be takeout and delivery?
The answer to that question may depend on your city, but in any case restaurants should plan for another year of increased takeout and delivery demand. The good news is that unlike last year, when they had to prepare with no blueprint, this year they have already been through a mostly off-premises Super Bowl. They can analyze what worked in 2021, throw out what didn't and draw inspiration from peers.
To help with that last part, we curated a list of creative Super Bowl promotion ideas. For easy reading, we split the list into sections for takeout & delivery and off-premises. We will update the list weekly with new examples as we draw closer to this year's game.
Super Bowl Promotion Ideas: Takeout & Delivery
The following promotions can be executed off-premises and largely involve pre-order & catering. Elements of these ideas can also apply to your on-premises strategy, but they should be viewed through the lens of takeout and delivery.
Super Bowl Appetizer Platter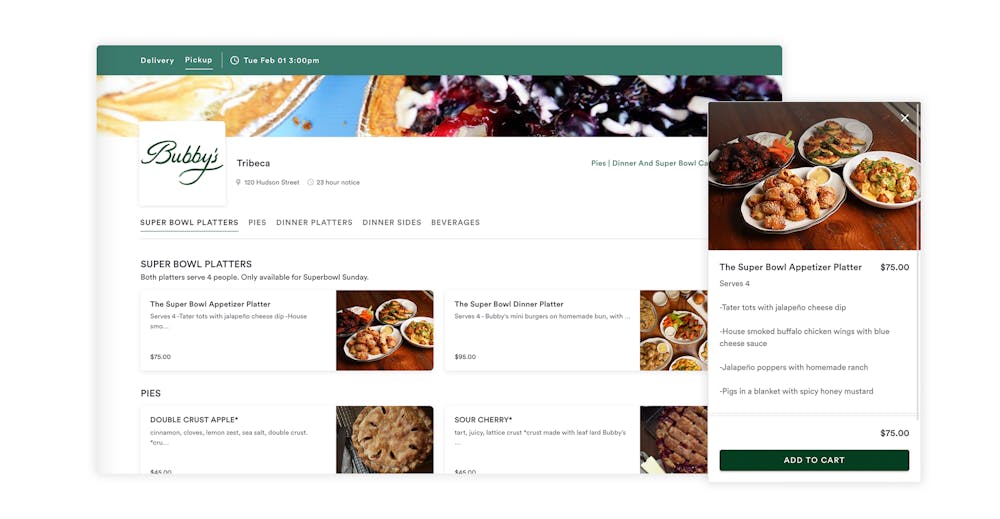 The Super Bowl is more of a "food" occasion than a "meal" occasion. New York City comfort-food spot Bubby's leans into this by offering a Super Bowl Appetizer Platter, which includes enough tater tots, chicken wings, jalapeño poppers and pigs in a blanket to feed four hungry football fans. With BentoBox Pre-Order & Catering, Bubby's can offer the package through a user-friendly and mobile-optimized webpage, which reduces diner frustration and increases checkouts. It also uses smart menu surfacing to control which fulfillment dates the Super Bowl package appears on.
Full Super Bowl Catering Package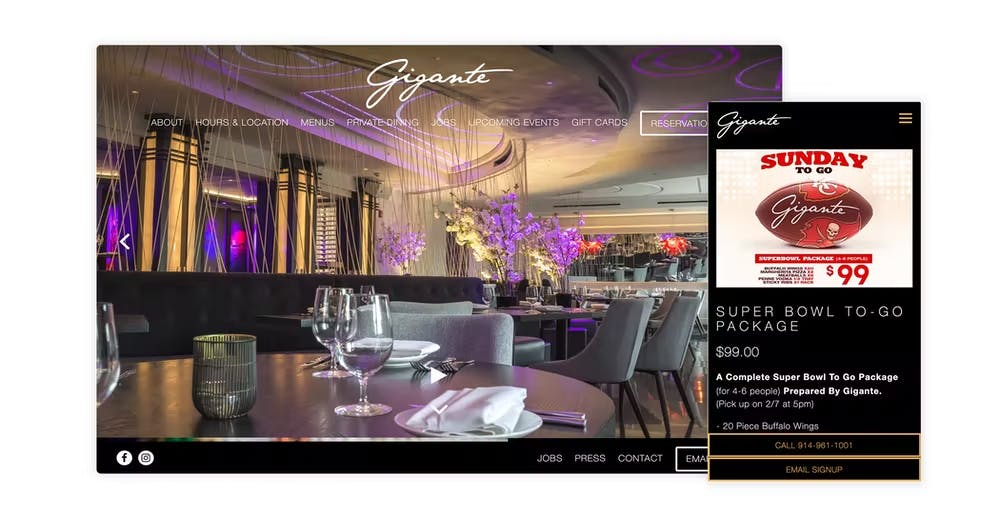 Party hosts often struggle to order the right amount of food for their guests. They also often worry about ordering too much of one item — like a stack of pizzas — and not providing enough variety for everyone in the room. Restaurants can solve these issues by curating full Super Bowl catering packages, as Gigante did in 2021. The package included a diverse spread of game day food (pizza, pasta, meatballs, wings, ribs), and the webpage clearly outlined that it served 4-6 guests. As a final touch, Gigante created a custom graphic featuring logos of the two Super Bowl teams, which helped the promotion pop across marketing channels.
Full Catering Package With a la Carte Options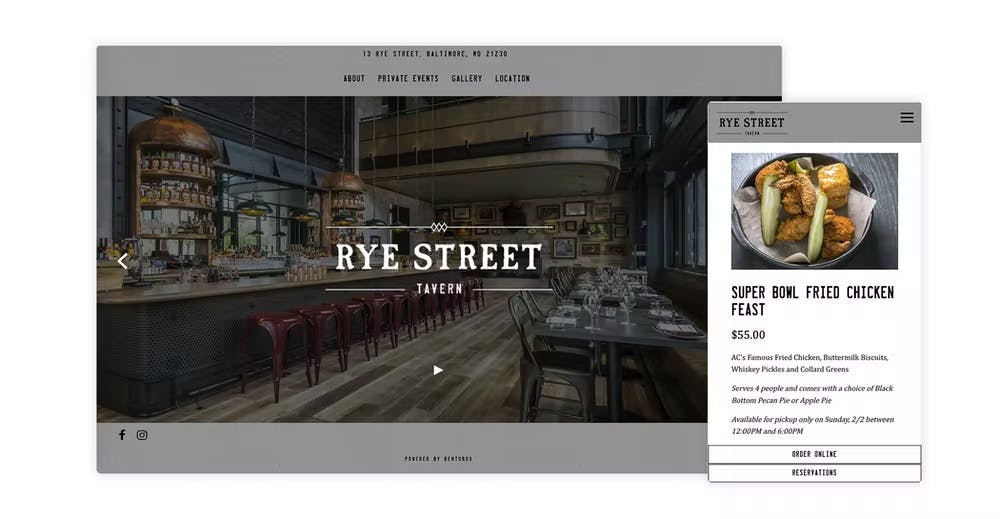 Some Super Bowl hosts prefer a diverse spread, but others may want to "double down" on specific items like wings. To capture as much game day demand as possible, restaurants can cater to both audiences. For example, Rye Street Tavern offered a full Super Bowl package called "The Works," which included both ribs and fried chicken along with fix-ins. However, it also offered a la carte packages with just ribs and just fried chicken. A poorly designed web page can make this experience confusing for diners, but as long as you have an optimized restaurant catering platform, the increased flexibility should lead to more sales.
Game Day Foods by the Pound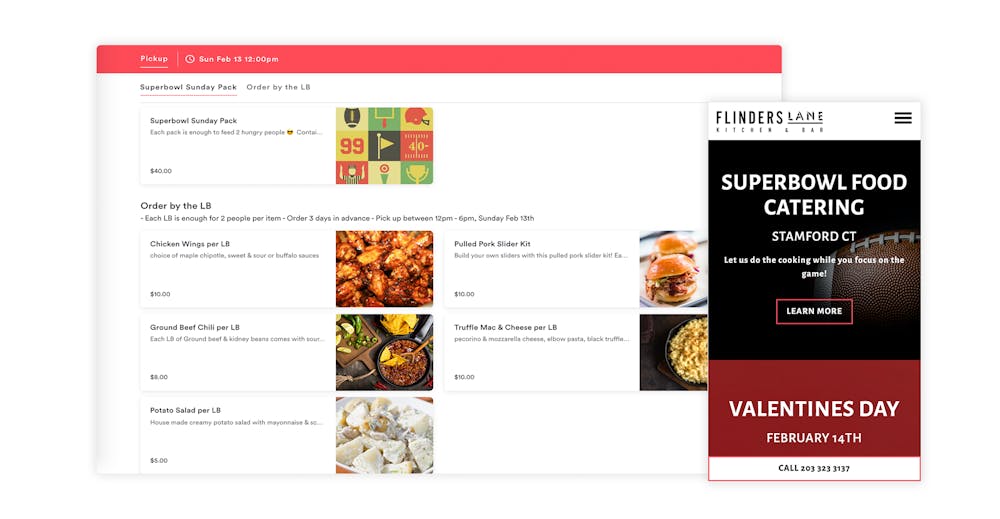 In addition to its full "Super Bowl Sunday Pack," Flinders Lane sells game day staples such as chicken wings, pulled pork sliders, potato salad and truffle mac and cheese by the pound through its online catering store. The reasonably priced and adequately portioned menu items make it easy for guests to customize their ideal game day spread. The best part? After licensing Pre-Order & Catering, Flinders Lane needed fewer than 10 days to launch its Super Bowl promotion — and it did all the setup itself.
Take & Bake Catering Package

When party hosts order from restaurants, the main thing they sacrifice is control. They don't know when exactly the food will get there. They don't know if the food will still be warm. They hope it will be and that guests have a great experience, but once they place the order, it's out of their hands. Restaurants can ease this concern by offering take & bake packages, like Hill Country Barbeque's "Big Game Box," which was served cold and meant to be reheated. This allows diners who don't like relinquishing control — or who simply enjoy the ritual of cooking — to meet their needs while still serving restaurant-quality food.
Learn More About Pre-Order & Catering
Leave your email, and our team will schedule a demo.
DIY Game Day Meal Kit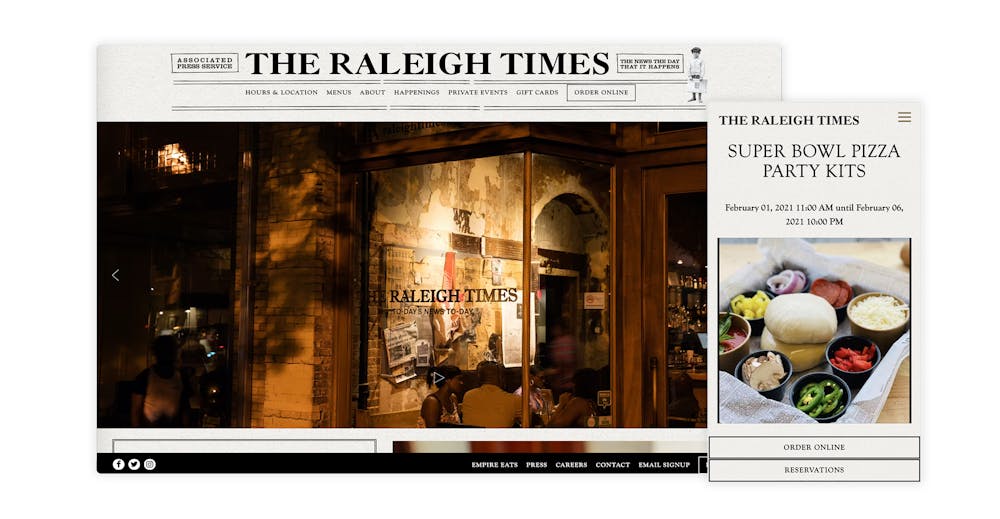 Similar to take & bake packages, restaurants can offer Super Bowl meal kits where diners cook a restaurant meal from scratch. This puts even more control in the party host's hands, though it also invites more risk and requires more time. Still, the explosive growth of the meal kit industry, which is projected to reach $27.3 billion by 2028, shows there is an appetite for packages like The Raleigh Times' "Super Bowl Pizza Party Kits." It may be better suited to smaller Super Bowl parties than big ones, but it's a fun way to spend the hours leading up to kickoff.
Chef-Driven Game Day Spread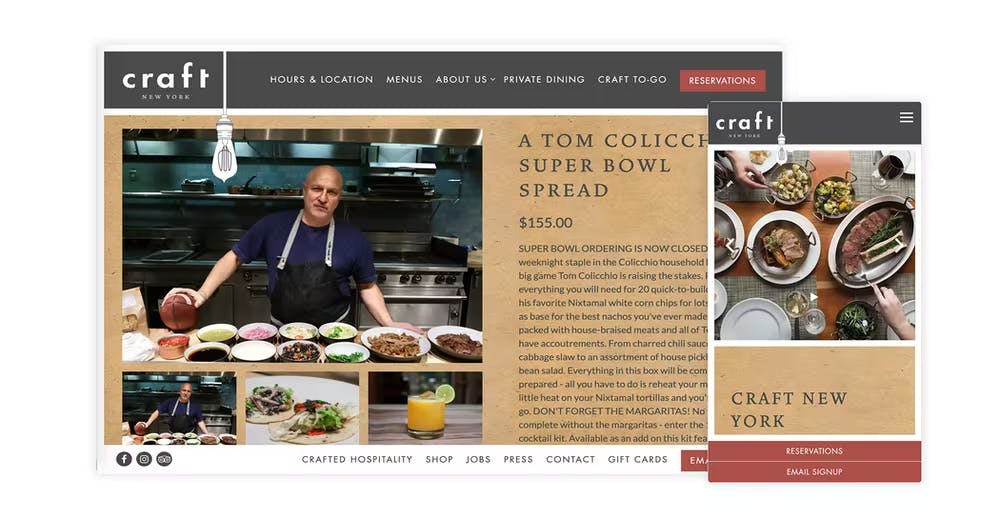 If your restaurant's brand is closely associated with a person — typically a chef or owner — you can use that person as a framing device for your Super Bowl promotion. Celebrity chef Tom Colicchio is the public face of CraftNYC, which the restaurant leveraged by framing its Super Bowl package as, "A Tom Colicchio Super Bowl Spread." The webpage where diners ordered had a photo of Colicchio in the kitchen with the spread arranged in front of him, showing that he was actively involved and not just lending his name to the box from afar. Taken together, this is a great way to add authenticity and authority to your promotions.
Team-Themed Takeout Dishes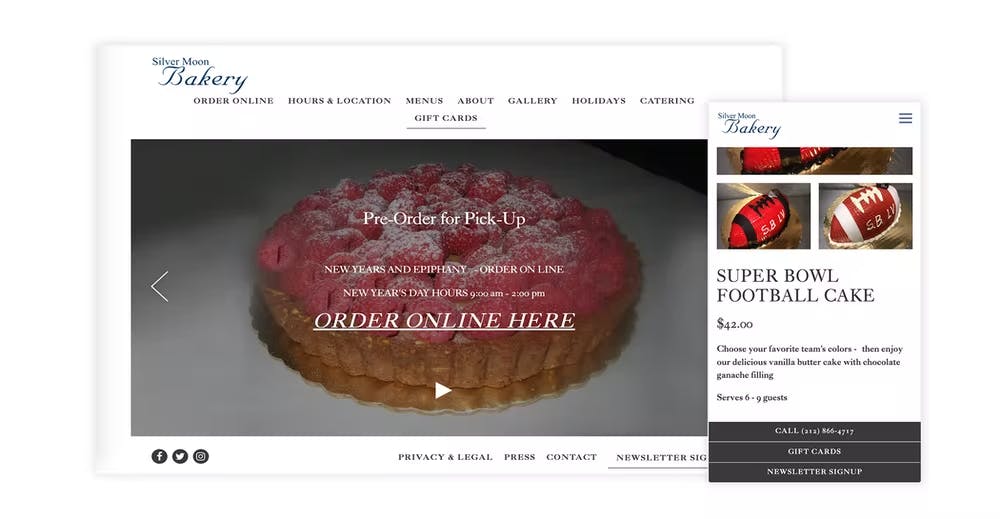 Yes, Super Bowl Sunday is a big day for casual football fans, but plenty of partygoers care about the game itself — and restaurants can appeal to this audience by creating dishes that show team spirit. For example, Silver Moon Bakery sold football-shaped cakes in 2021. Its website prompted users to select if they wanted a certain team's colors: red for Kansas City, gold for Tampa Bay. This approach will be extra popular if your restaurant's home team makes the Super Bowl, but any major city has some diehard fans of every team, and those fans are very likely having a watch party.
Limited-Time Menu Items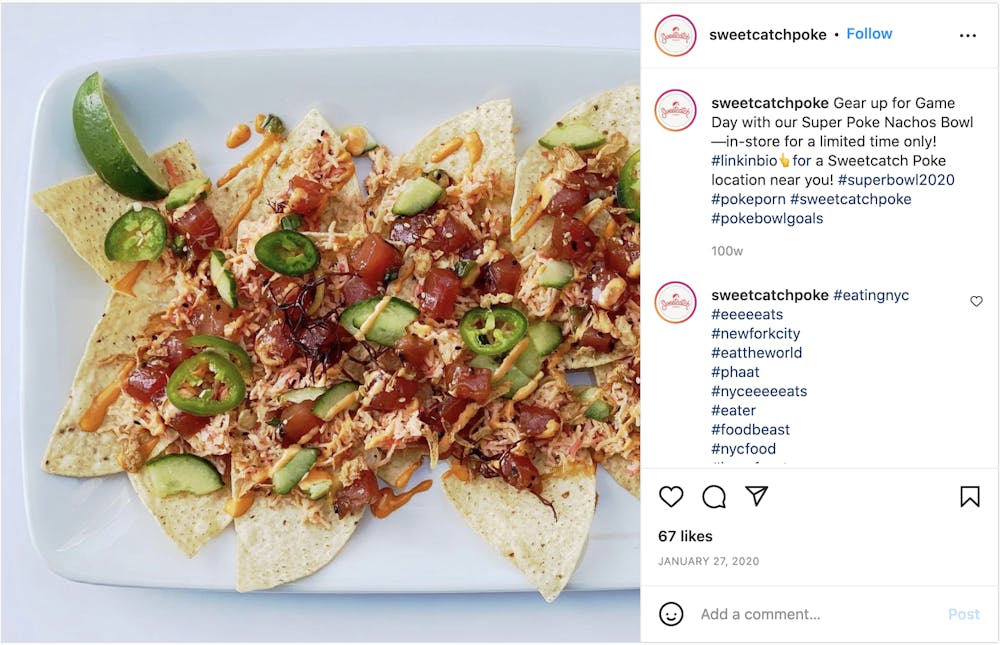 Super Bowl Sunday is a great time for restaurants to experiment with creative twists on game day food. Sweetcatch Poke, a poke restaurant with locations across New York City, used last year's game to put a Hawaiian twist on American nachos, which diners could only order for a limited time. These promotions likely appeal more to casual football fans than diehards who order traditional game day food all season. If that sounds like your customers, this is a fun way to make their Super Bowl Sunday special.
Super Bowl Promotion Ideas: On-Premises
The following promotions can only be executed on-premises and largely involve ticketed events or private events. Despite the Omicron variant of COVID-19, on-premises events like this will likely be permitted during the Super Bowl. However, you should be mindful of local case rates and ready to pivot strategies if needed.
Partial Buyout Package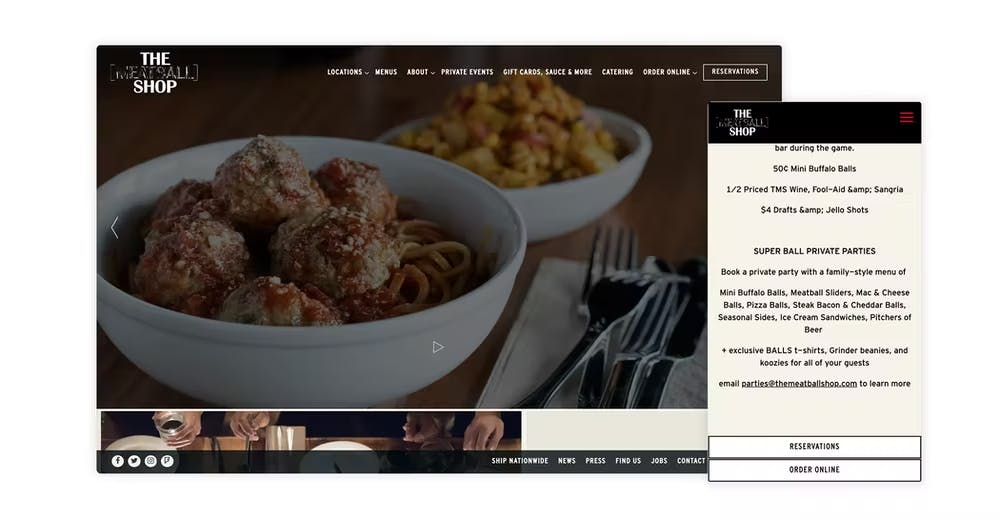 Some guests want to spend their Super Bowl around the kinetic energy of strangers, but still hold comfortable conversations with their group. Partial buyout packages, where guests rent one section of the restaurant, are perfect for this type of customer. A great example comes from Michael Chernow's The Meatball Shop, which has catered on-premises Super Bowl events with family-style menus and merchandise such as t-shirts, beanies and koozies. In addition to rounding out the package (and allowing for higher prices), this merchandise serves as free future marketing when people wear it and explain how they got it.
Ticketed Event With Inclusive Perks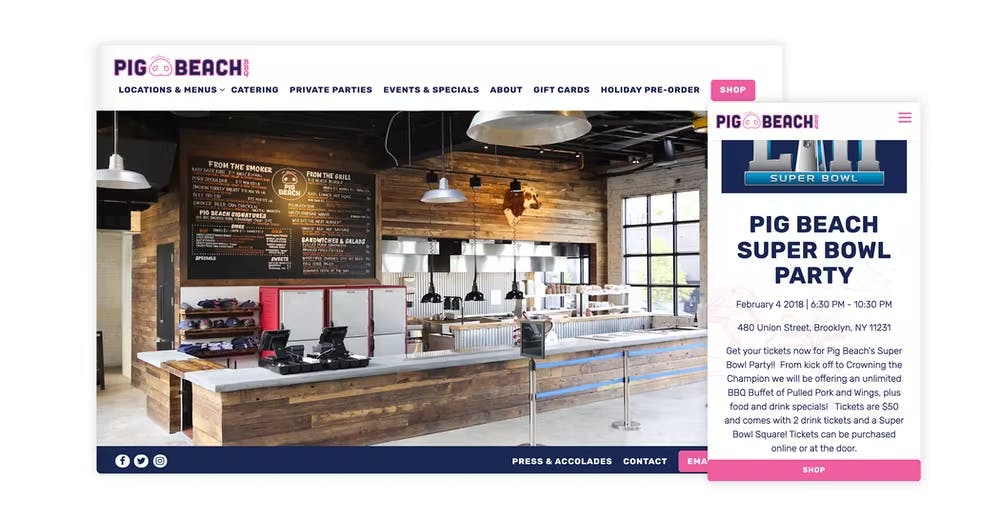 If you have big TVs and ample communal space, ticketed events are a great way to drive people through the door on Super Bowl Sunday. In 2018, for example, Brooklyn party bar Pig Beach sold $50 tickets that guaranteed entry, buffet access, two drink tickets and a square in their Super Bowl square pool. Perks like this make the event sound fun and the tickets appear like great values — which they are. For restaurants, the real money comes on game day with food and drink upsells.
Local Influencer Partnerships
2 super bowl pregame parties!!!
4-kickoff in Norwalk AND Black Rock! pic.twitter.com/r6K7uHUXYN

— The Blind Rhino (@blindrhinobar) January 30, 2020
Not all perks are monetary. Another perk restaurants can offer is the chance to see and meet well-known people. What qualifies as "well-known" depends on your city and audience, but partnering with local influencers will definitely help your event build buzz. The Blind Rhino, a multi-location sports bar in southern Connecticut, showed this by having local radio and podcast personalities "host" its Super Bowl parties in 2020. Even at the local level, influencers like this have a built-in audience and platform they can use to generate interest.