← Back
How to Increase Restaurant Sales on Super Bowl Sunday
Game day restaurant promotion ideas to score more sales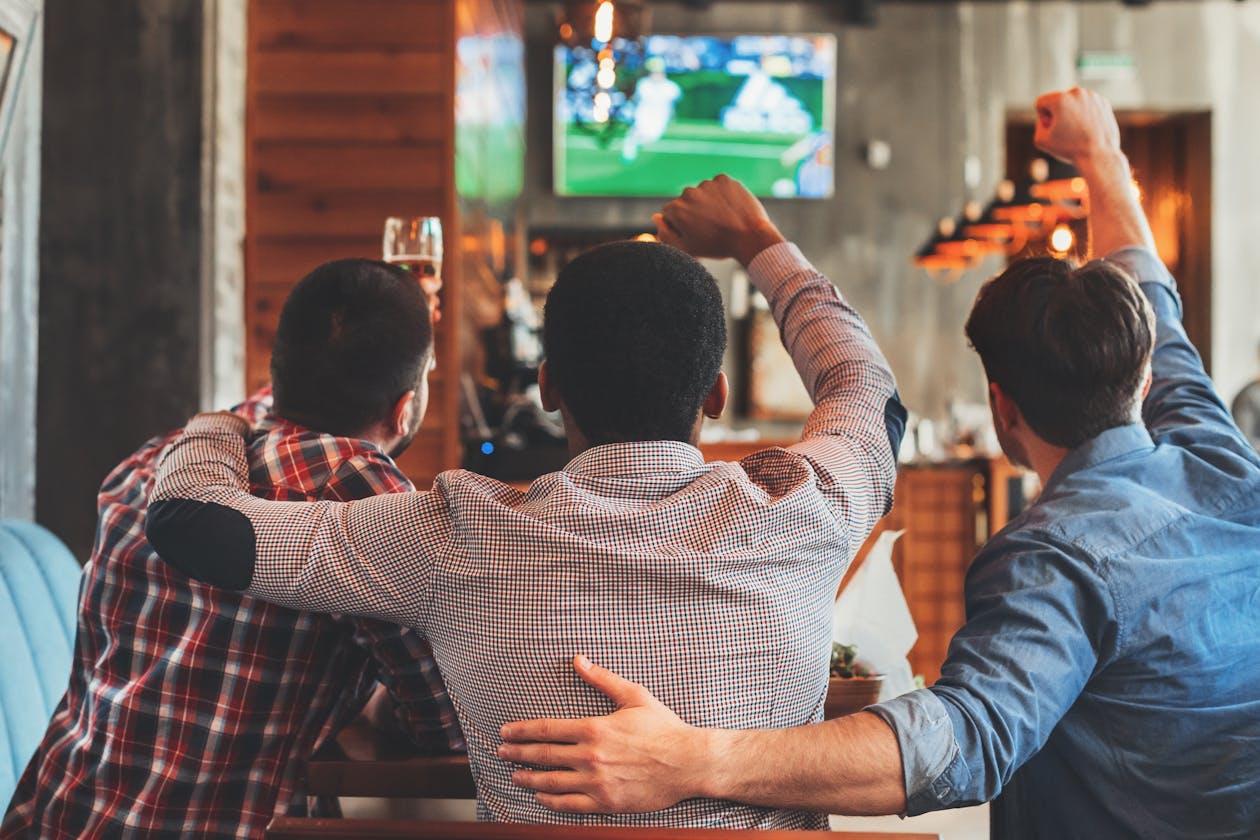 In the restaurant world, The Super Bowl is known as one of the slowest days of the year. Cover counts drop as people stay home to watch the game in front of their big screens. But just because a guest's first choice that day is to stay home doesn't mean that game day has to be slow for business. Here are several tips & tricks on how to increase sales on game day.
Americans spent nearly $14.8 billion on the Super Bowl last year, including party decor, team merchandise, and—most importantly—food and beverages. 11 million Americans say that fun food is the most important part of the day for them, which means the game can be a huge revenue driver for your restaurant.
We put together some restaurant promotion ideas to increase your profits on Super Bowl Sunday—no hail-mary necessary.
Get a Game Day Menu
Super Bowl Sunday is the second-largest food consumption day of the year in the US, right after Thanksgiving, meaning you should cater to the masses by offering a game day menu. Wings, pizza, and beer are pretty standard when it comes to football games, but you can make your menu extra special by adding a Super Bowl special to represent each team. Want to make it really stand out? Make sure football fans know about it by posting the menu on your website, since it's the first place they'll go to see what you're serving that Sunday.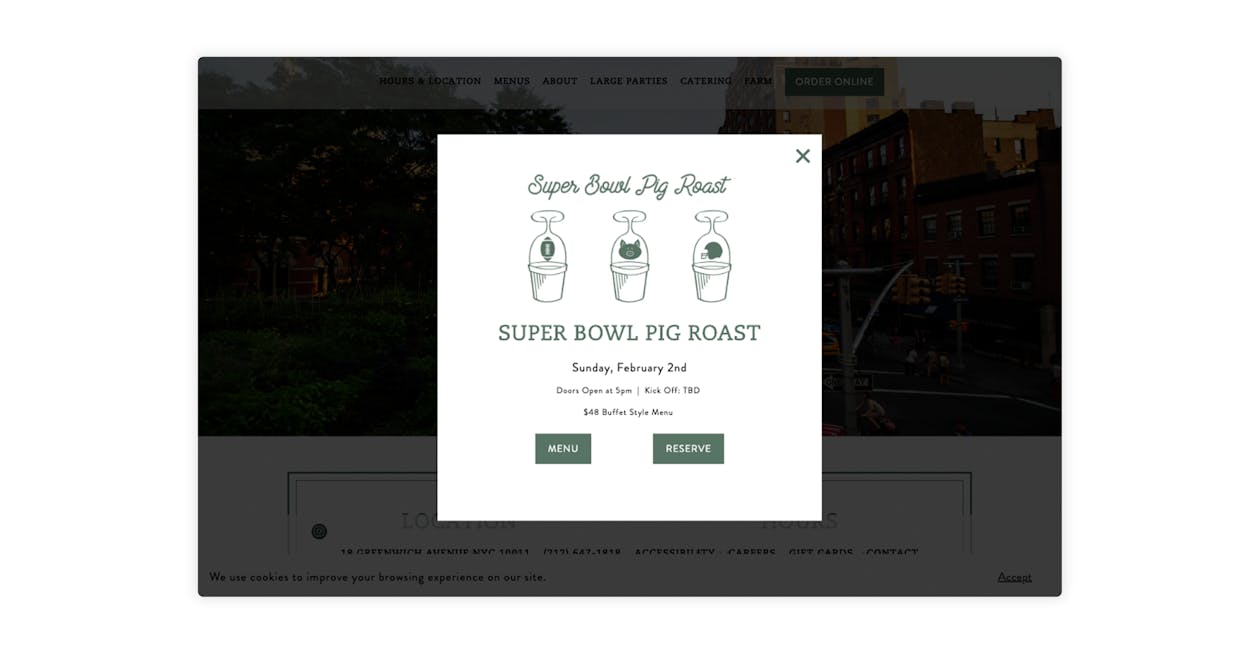 Rosemary's promotes their Super Bowl Pig Roast menu via a popup alert on their homepage.
In New York City, Rosemary's, promotes their Super Bowl Pig Roast event with a popup alert when visitors land on the website. Guests can view the menu or click on a link to make a reservation. Even if your football menu isn't a regular feature, ask us how to have an alert on your homepage to help spread the word about your specials.
Tackle the Competition With an Online Catering Store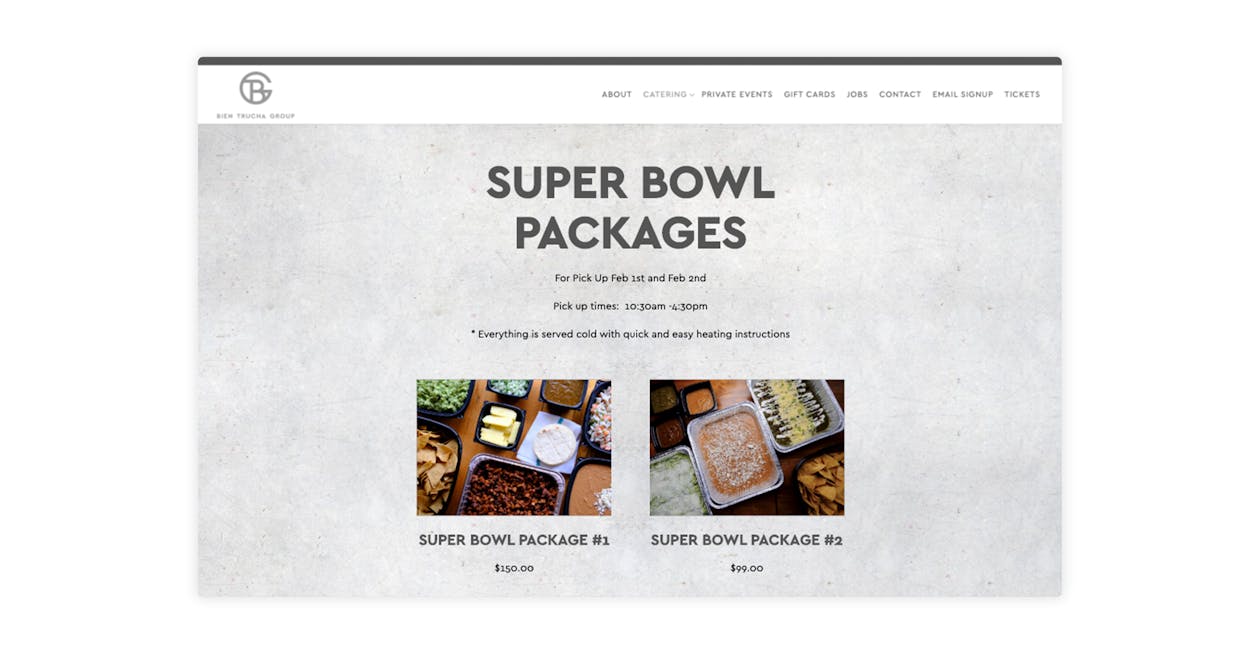 People like to order take-out and delivery in large quantities on game day. Case in point—there's a 35% increase in pizza deliveries on Super Bowl Sunday, and Americans go through nearly 125 million chicken wings on that day alone. But keep in mind that competition is steep today, so you'll want to make your business stand out.
One easy way to do so? Offer online catering Super Bowl packages Bien Trucha Group does. This eliminates the need for long or confusing phone calls and helps ensure a smooth experience for both customers and restaurants alike. Just be sure to include options for all sauces, sides and utensils to make the ordering as seamless as possible.
Get Your Head in the Game: Offer a Contest Online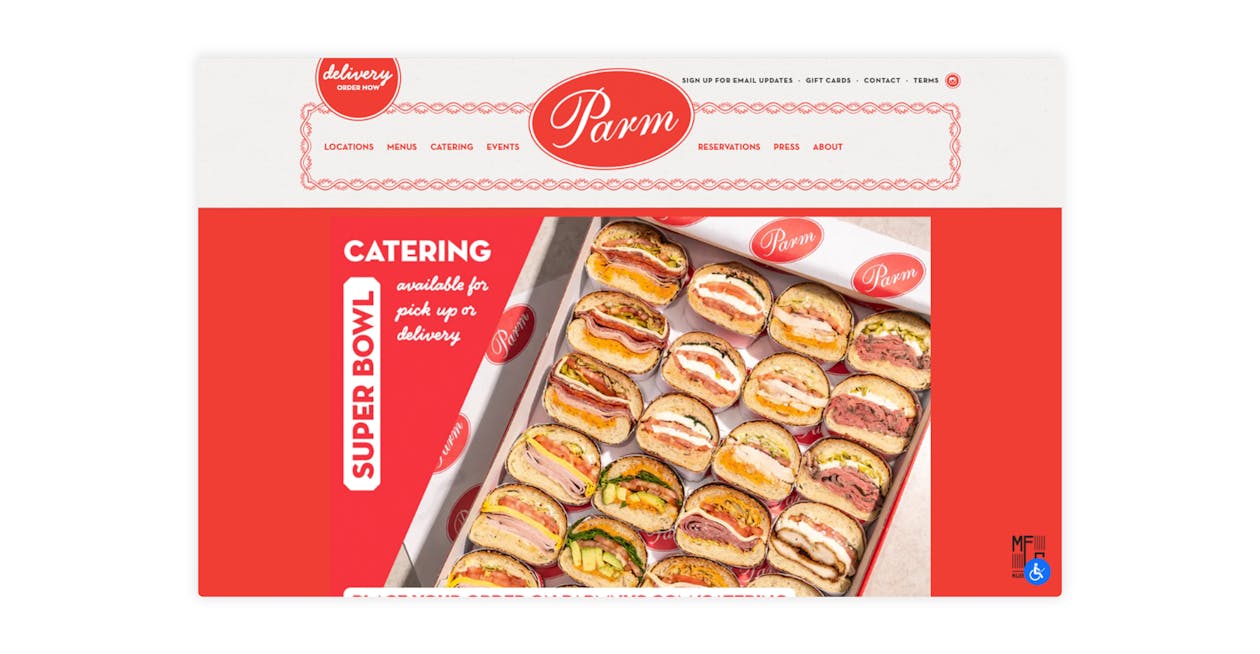 Parm highlights their Super Bowl Catering options.
The Super Bowl is all about the competition. Let your guests feel like they're part of the competitive spirit by hosting an online contest. Julia Pei, VP of Business Development for Major Food Group in New York, said that in years past at Parm "We've encouraged folks to place their orders early, as the first 100 orders automatically get entered for a chance to get their entire Super Bowl order for free!"
Not only do your guests have a chance to score big, but encouraging pre-ordering helps your team prepare for the big day. Parm decided to use the online route because it's the fastest, easiest way to promote the contest and to let guests know they have several locations to choose from.
Host a Super Bowl Party
Hosting a Super Bowl party at home can be time-consuming and costly—just think of all that beer! If you're equipped for it (think: TVs or a projector, ample seating, etc), restaurants and bars can reap the benefits of the game by offering large groups a place to watch without the hassle of hosting at home. Make it known your place will be celebrating the Super Bowl by promoting the event on your website.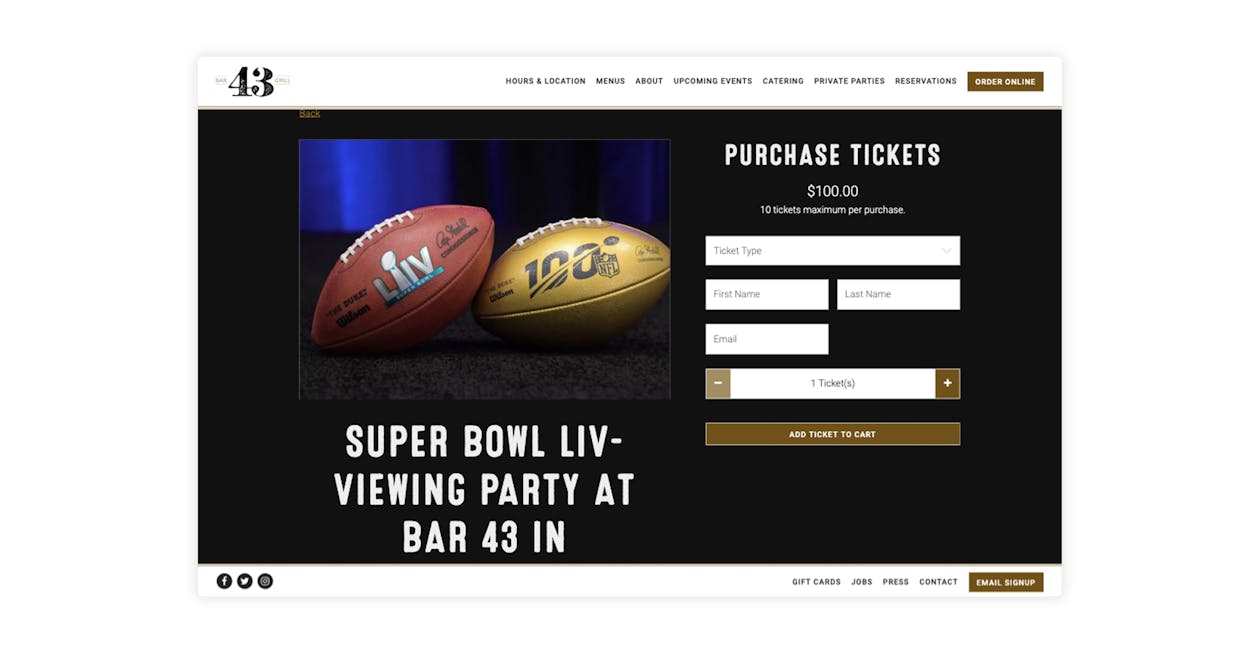 Bar43 sells tickets to its Super Bowl LIV viewing party through their website.
Bar 43 in Sunnyside, Queens has an events tab that shows all of their upcoming events, including their Super Bowl Sunday viewing party. The calendar is great because guests can plan ahead and access all the necessary info. The best part? There's also nothing fancy about it. They make it clear and give a sense of the experience with an event description stating that they have 25 HD televisions to watch the game and for the $100 ticket price, you're guaranteed a seat. They also are offering a premium ticket that includes a 4-hour open-bar with tip included. That sounds like a deal to us.
Be sure to check out how Toll Man Joe's sold tickets to their Super Bowl party.
Want to turn your website into a real touchdown and make every day as great as game day? Get in touch with us right here.