← Back
Valentine's Day Promotion Ideas for Restaurants (2022)
For some diners, Valentine's Day dinner will return to normal. For others, takeout and delivery are the new normal. Learn how restaurants can appeal to both groups.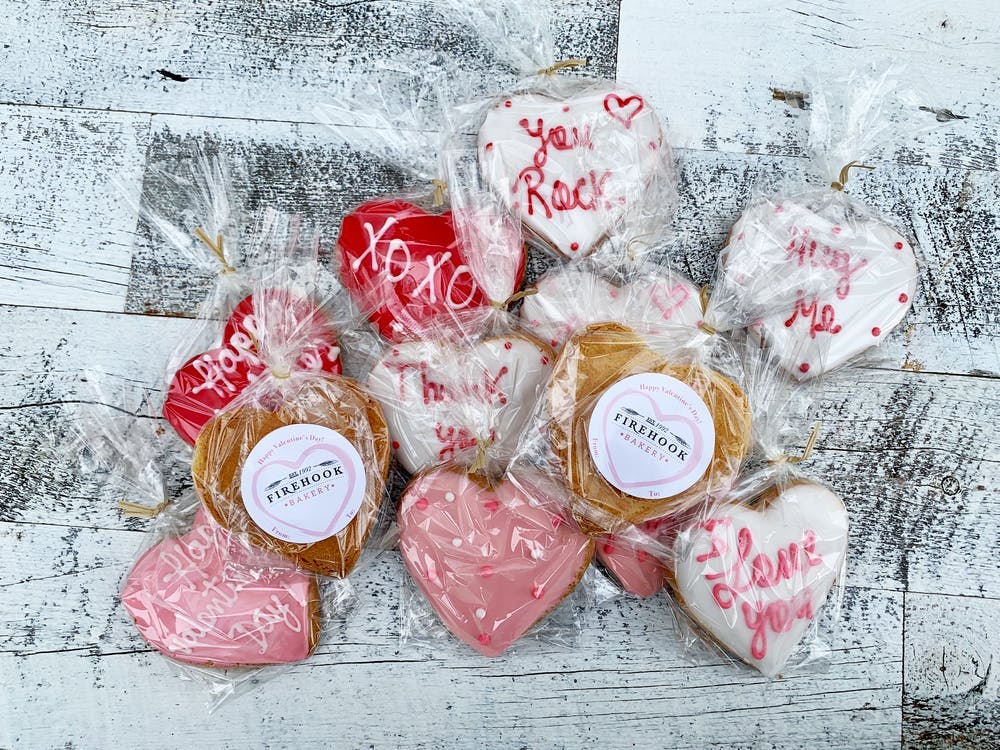 Valentine's Day is a major event on restaurant calendars. Last year, restaurants generated 148% more online revenue on Valentine's Day (which fell on a Sunday) than the average Sunday in February, per internal data from BentoBox.
This year, on-premises Valentine's dining should return to most parts of the country, though the Omicron variant of COVID-19 threatens to decrease turnout. Even if local case rates are stable by February 14th, restaurants should expect another year of increased demand for takeout and delivery Valentine's packages. A meaningful segment of diners still feels more comfortable eating at home — especially in the winter — and may for the considerable future.
To appeal to the widest audience, restaurants should consider both on- and off-premises Valentine's Day promotions in 2022. This article features tips and examples to help with the development of those promotions. We will update the article weekly with new examples as we draw closer to Valentine's Day.
Valentine's Day Promotion Ideas: Takeout & Delivery
The following ideas can be executed off-premises and largely involve pre-order & catering. Elements of these promotions can also apply to your on-premises strategy, but they should be viewed through the lens of takeout and delivery.
Full Valentine's Dinner Package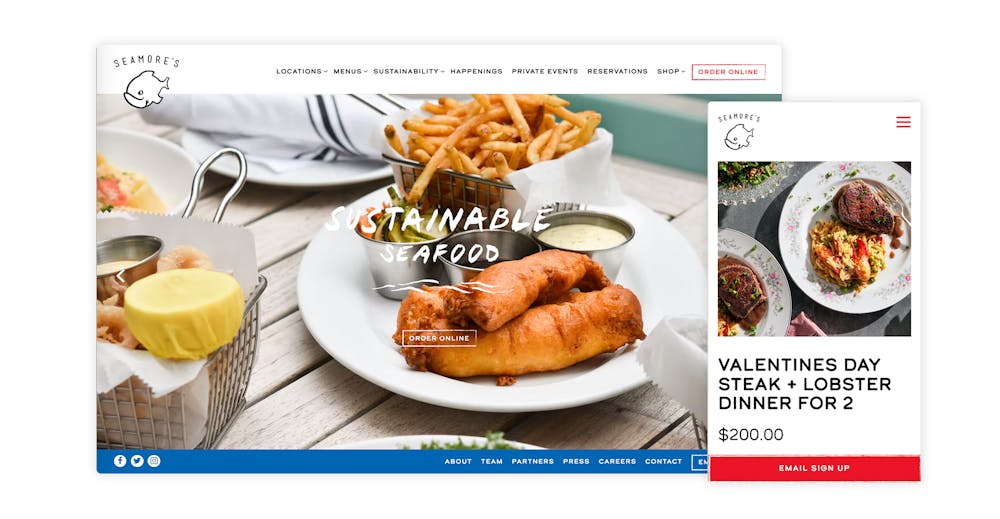 Undaunted by indoor dining restrictions, Seamore's created a Valentine's Day to-go box with a twist on traditional surf and turf. The three-course meal included shrimp cocktail and kale salad as appetizers and filet mignon and lobster orzo as entrées. Seafood is typically considered a cuisine that doesn't travel well, but it actually saw the largest order increase by cuisine type in 2021, thanks in part to creative promotions like this one. If you have built enough credibility with your diners, they will trust you to curate and deliver a high-caliber holiday meal.
Romantic Signature Cocktail Package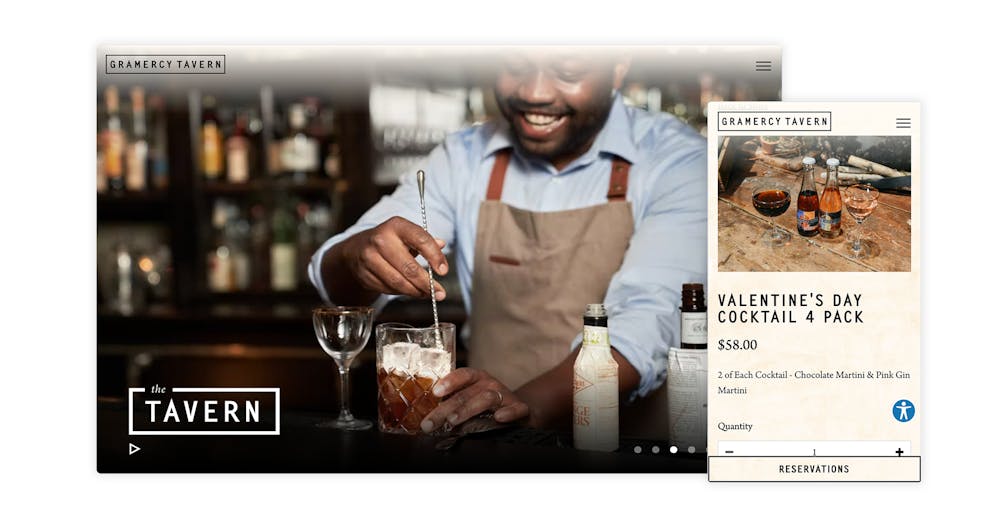 Restaurants may not like it, but there are few things more romantic than cooking a romantic Valentine's dinner. Some guests will go this route rather than dining in or ordering takeout, and they can hardly be blamed for doing so. However, restaurants can still reach these diners with promotions that supplement a home-cooked meal. For example, Gramercy Tavern sold a four-pack of bottled Valentine's Day cocktails: two chocolate martinis, two pink gin martinis. This allows amateur chefs to focus their attention on cooking the meal, but still serve a cocktail worthy of pairing with something special.
Valentine's Day Dessert Package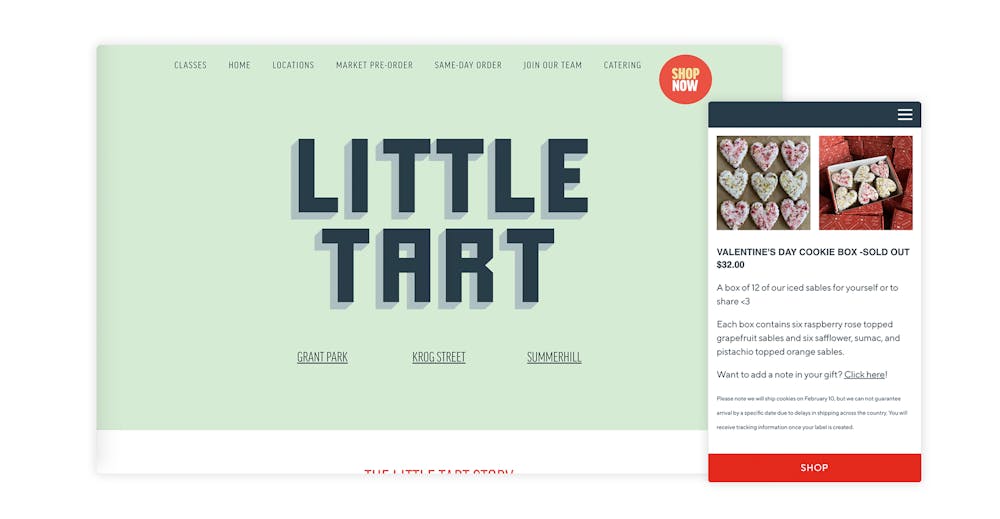 Valentine's Day dessert packages play a similar role to cocktail packages. It's hard enough for amateur chefs to cook a special dinner for their loved one; rather than also making dessert — or worse, not even doing dessert — they can order a special dessert in from restaurants. Cookie packages like the example above from Little Tart Bakeshop, or this example from Firehook Bakery, have the added benefit of appealing to platonic Valentine's Day gifters (e.g., mother's gifting to daughters).
Valentine's Keepsake Package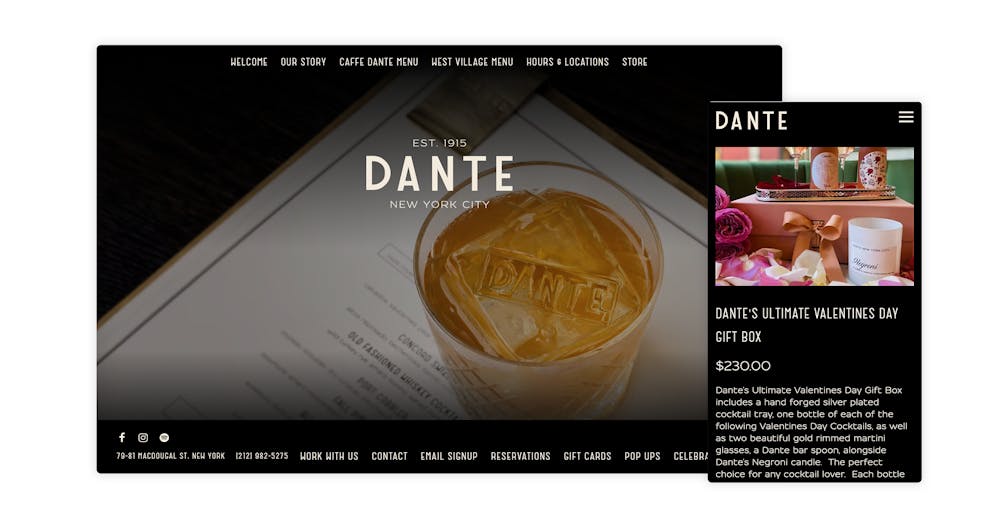 Rounding out the gift package section, this example from Dante shows that restaurant promotions aren't limited to food and drink. In addition to two bottled cocktails, the New York cafe included a silver-plated cocktail tray, two gold-rimmed martini glasses, a bar spoon and a candle in its "Ultimate Valentine's Gift Box." Valentine's Day planners typically need to arrange a special evening and a special gift, but packages like this allow them to check off two boxes at once — provided the gifts feel elegant enough.
Interactive Meal Kit + Cooking Class
Meal kits are another way for restaurants to support home-cooked Valentine's Day dinners. Restaurant meal kits have higher-quality ingredients and recipes than mass-produced meal kits like Blue Apron, but they're also designed to be cooked by professionals rather than amateurs, which means there is higher risk of error. La Spiga Osteria devised a clever solution to this problem, inviting all meal kit purchasers to join the chef/owners on a video call where they demonstrated how to cook the dish. The couple also discussed their personal love story and the restaurant's founding, adding a dash of Valentine's Day romance to the promotion.
Kid-Friendly Dinner Package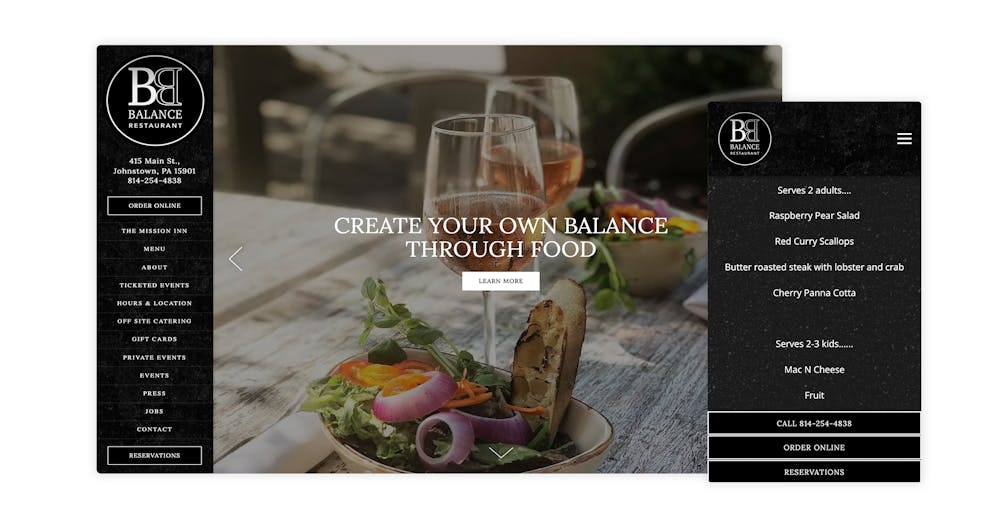 COVID-19 has blurred the lines between peoples' home lives and their work lives, social lives and personal lives. Understanding this, Balance Restaurant developed a "Family Valentine's Day Meal" for couples who planned a romantic night in sans childcare. The adult meal included pear salad, scallops, steak, lobster, crab and panna cotta for two, while the kids meal included mac and cheese, fruit, housemade chips and cookies for 2-3. Allowing parents to cater Valentine's Day in one click, and not feel like they're sacrificing quality, is a tremendous value add from restaurants.
Heart-Shaped Menu Items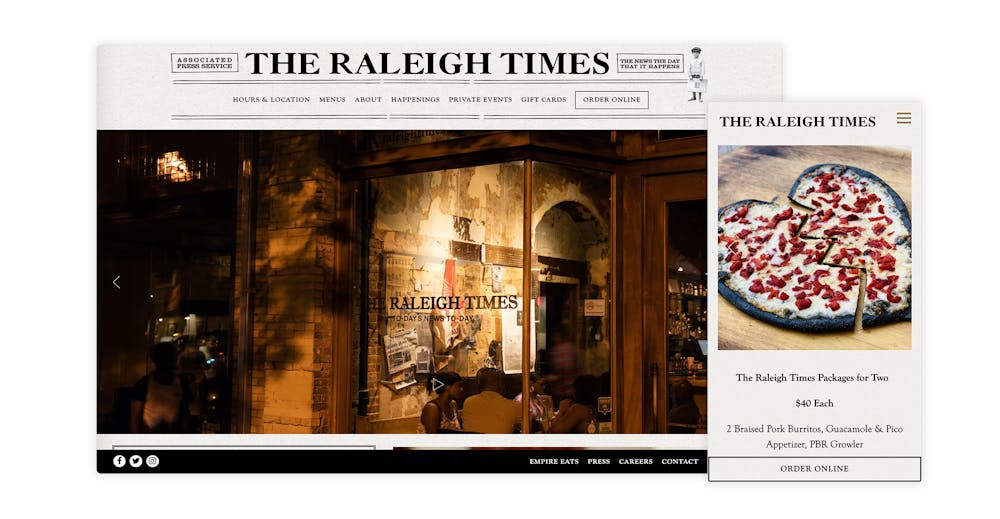 An easy way to turn a meal into a "Valentine's Day Special" is to make it heart-shaped. Particularly for last-minute Valentine's planners, it's a simple solution that shows a degree of thoughtfulness about the holiday. It also lends itself to eye-catching marketing assets, as seen with the heart-shaped pizzas that The Raleigh Times promoted on its website and social media last Valentine's Day.
Limited-Time Menu Items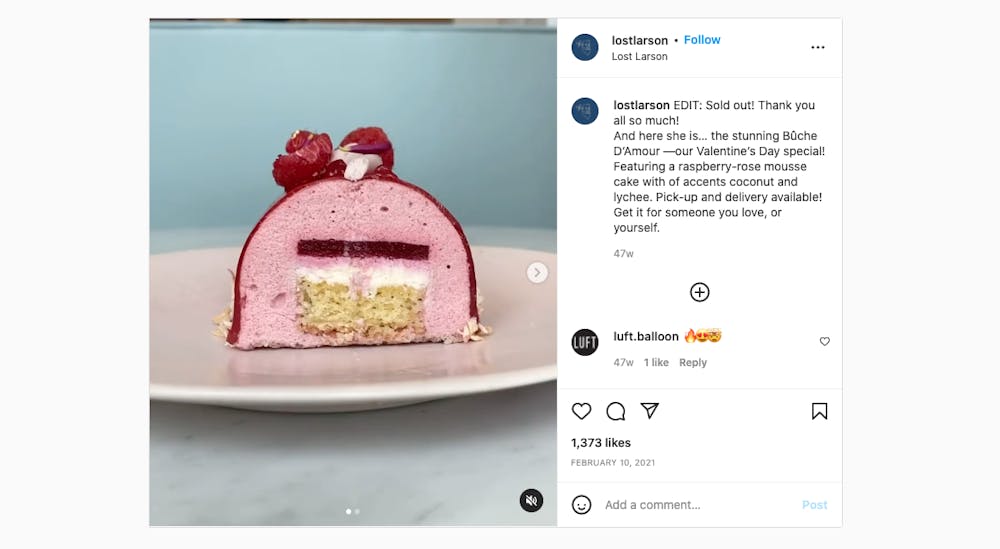 Limited-time items are a great way for restaurants to market Valentine's Day to existing customers. It puts a new twist on an experience they know and trust — an important consideration for special meals — and allows them to feel like they're having "the same thing but different." If you offer direct online ordering, you already have a robust list of customer emails to reach when you market the promotion. That's the best way to re-engage diners with this type of offer, but you can and should also use social media, as Lost Larson did with last year's Bûche D'Amour Valentine's Special.
Valentine's Day Promotion Ideas: On-Premises
The following promotions can only be executed on-premises and largely involve ticketed events or private events. The most common approach for these promotions is a straightforward prix fixe menu, but the examples below provide outside-the-box thought starters.
Annual Champagne Dinner (or Other Annual Event)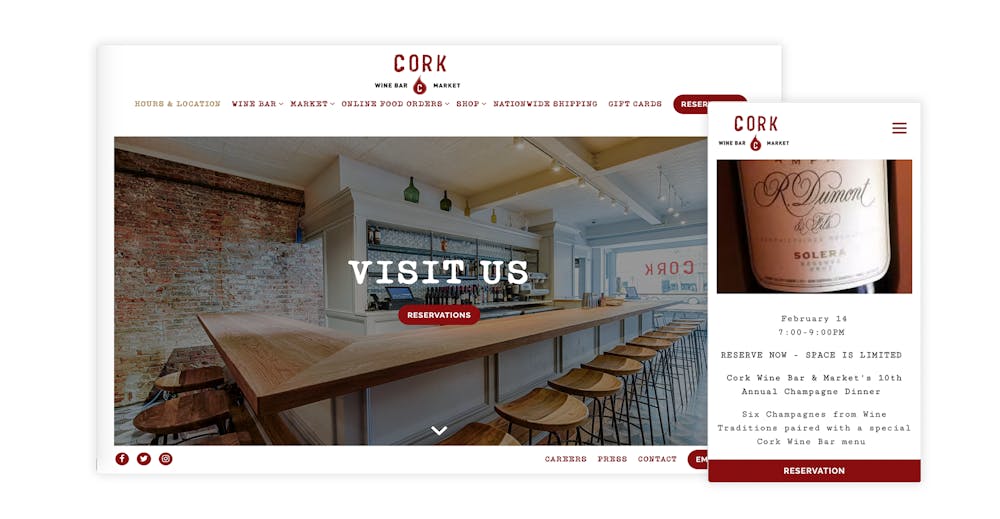 Cork Wine Bar in Washington, DC, celebrates Valentine's Day with an annual Champagne Dinner, where it partners with local importers to pair its bar menu with a selection of rare champagnes. In addition to being a great event idea, this approach stands out because of how it's become a tradition. When marketing materials mention that an event is "the 10th annual," it catches diners' eyes and suggests the event is popular, which makes them more likely to attend. Diners who enjoy the event are also likely to return, creating a built-in audience and reducing the pressure on marketing to fill the venue.
Romantic Decor/Design Course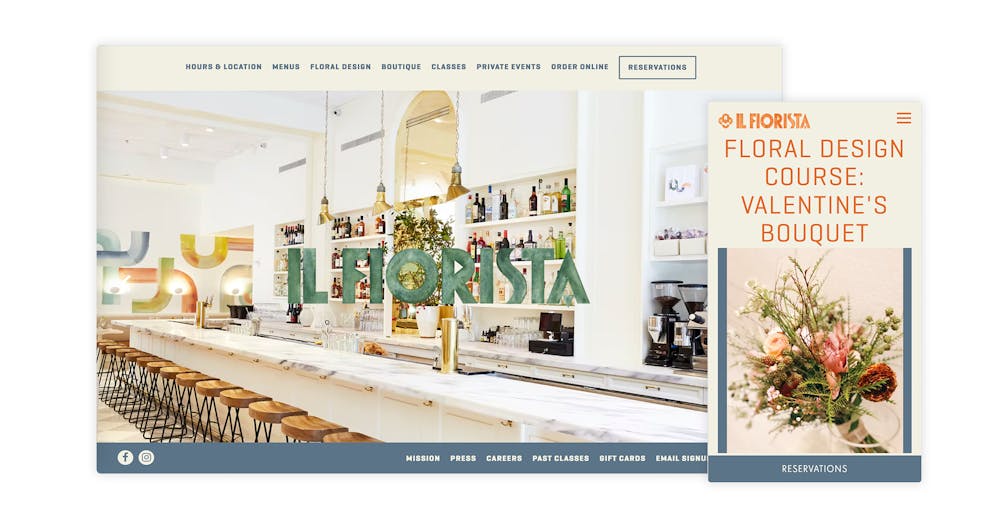 If your restaurant is highly regarded for ambiance and decor, as most upscale restaurants are, you can provide more than food and drink for Valentine's Day. You can also help people or couples learn how to set a romantic mood. This approach worked especially well for Il Florista, a New York City restaurant that doubles as a floral boutique, which hosted a Floral Design Course last Valentine's Day. Does your restaurant have a signature design or style people may want to learn about? If so, this may be the right occasion to teach them.
Dinner Under the Stars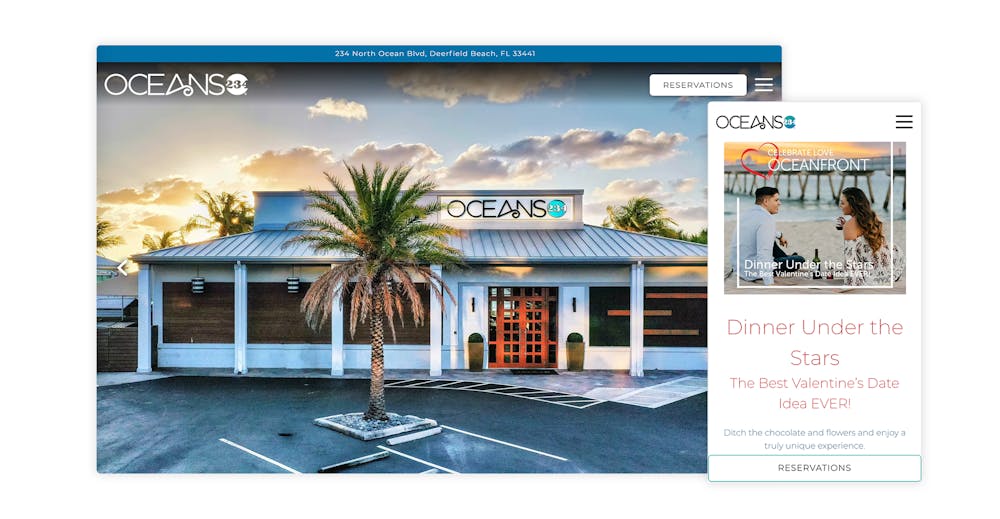 If you operate in a warm-weather location, you can create romantic outdoor experiences — even in February. Oceans 234, an upscale bistro in South Florida, held a "Dinner Under the Stars" promotion last Valentine's Day. For a fixed price, guests enjoyed a four-course picnic-style meal on the beach with a blanket, lantern and bottle of wine. Instead of just promoting a meal to remember, it played to its strengths and promoted an evening to remember.
Romantic Winter Lodges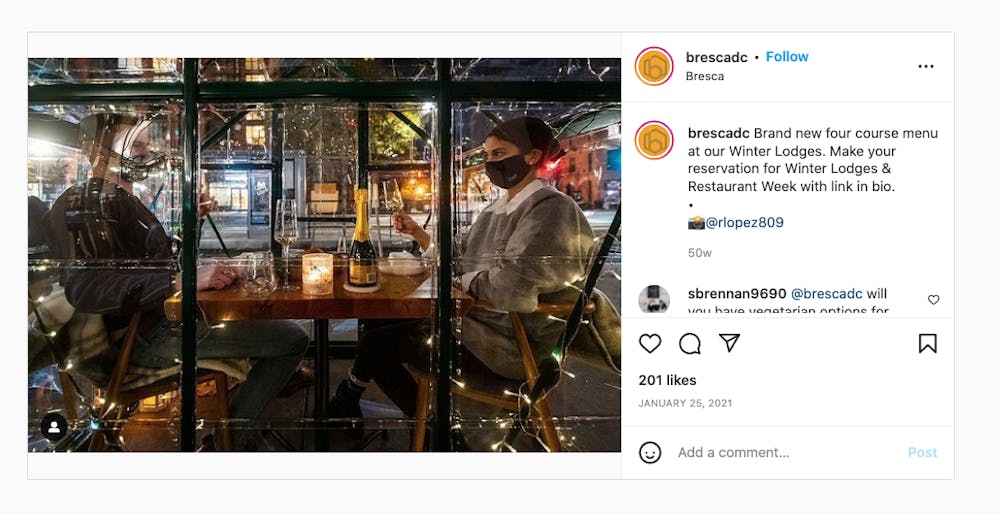 If you operate in a cold-weather location, beachfront picnics are obviously off the table. However, one of the few positive outcomes of COVID-19 was the normalization of cold-weather outdoor dining, which was aided by the restaurant industry's innovation with outdoor structures. If properly equipped and decorated, winter lodges like those at Bresca in Washington, DC, can be extremely romantic; after all, they offer a private and intimate meal with a backdrop of city views. Just be sure to make your decoration style and marketing assets stand out, because this approach will likely be popular in 2022.
When Should You Promote Valentine's Day Offerings?
Valentine's Day is an occasion people plan for, which makes it important to market your promotions in advance. However, if you market promotions too far in advance — before people are in the Valentine's mindset — your marketing will fall flat, and people may unsubscribe from the channel you used to reach them.
In order to find the sweet spot, you need to know when people start thinking about Valentine's Day. You can use tools like Google Trends to help with this. For example, you can analyze the frequency of searches for "valentine's day ideas," which last year looked as follows (click here if graph doesn't appear):
Based on this information, the best time to start marketing Valentine's Day promotions in 2022 is the week of January 10th. This is when people start to enter the Valentine's mindset, and even if many won't book so far in advance, you want to capture your share of the early planners.
Your most frequent, aggressive marketing should begin roughly two weeks before Valentine's Day and continue all the way through February 13th. As you get closer to the day, you may want to frame your promotions as perfect last-minute Valentine's ideas. This will catch the eye of people who still need plans — of which you can see there are many.