← Back
Restaurant Marketing Tips: How To Promote Reopening and Increase Sales
Restaurants that reopen during COVID-19 can promote health and safety measures, new menus and online ordering through their brand channels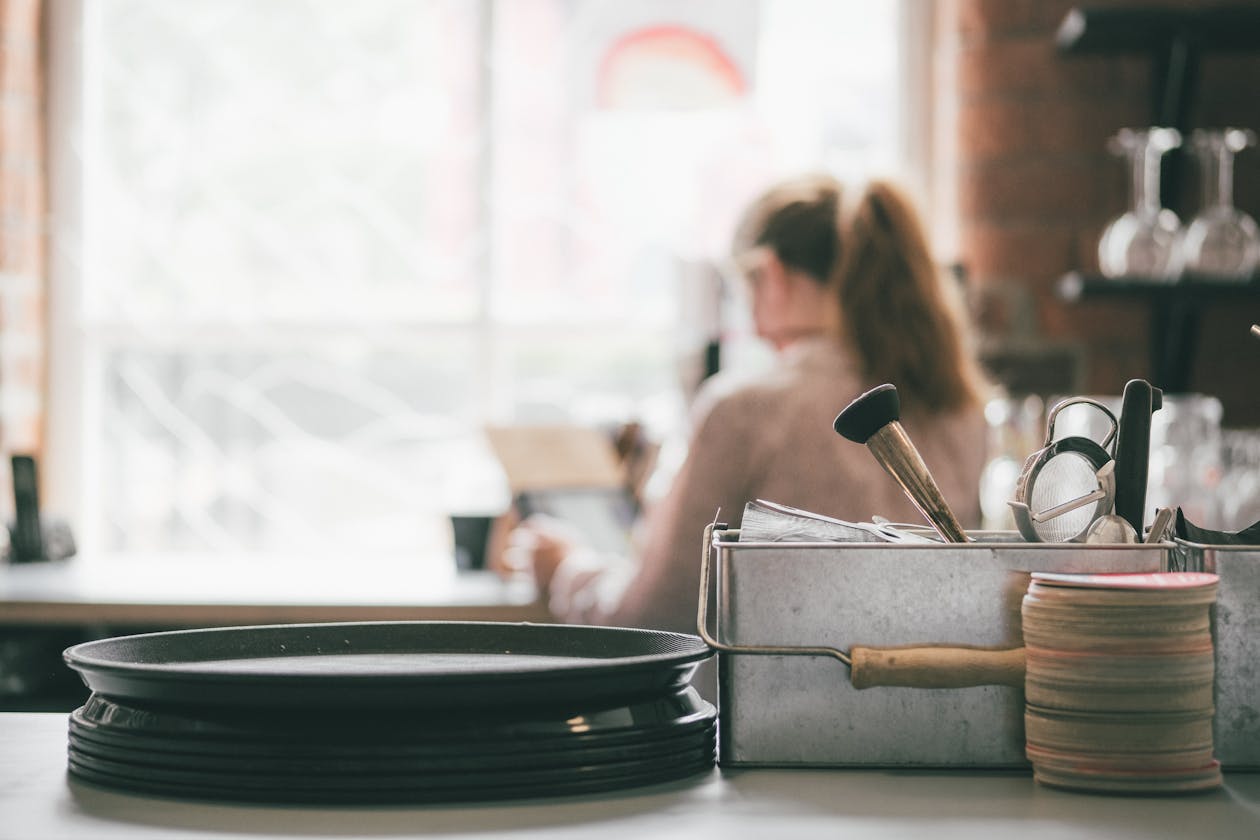 There is seemingly an infinite list of things to do before restaurants can reopen from COVID-19 shutdowns. Restaurant marketing is important to drive much-needed business and revenue. As more diners are looking at restaurant websites for information on how they're responding to COVID-19 and reopening, it's important to stand out from the competition. Here are a few marketing tips for restaurants to drive more business.
Update The Website To Increase Awareness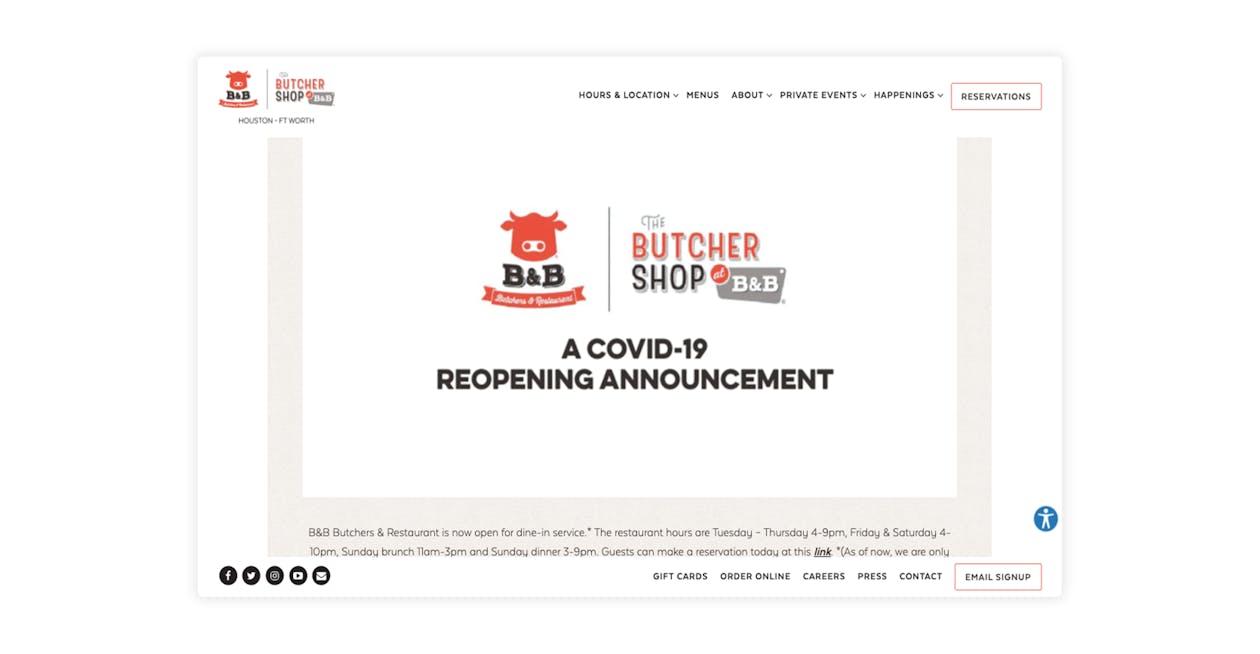 Diners are relying on restaurant websites to provide the most up-to-date information about the restaurant. Write an announcement around reopening similar to how B&B Butchers & Restaurant did for each of their two locations. An announcement should include links to reopening safety measures, updated menus, hours of operation, reservations and online ordering for curbside pickup and delivery.
Email Subscribers About Reopening Information
Once a restaurant decides on how and when to reopen, they need to get that information out to diners quickly. Email subscribers are already loyal to a restaurant — making them an easy target to drive business. Restaurants can send a marketing email highlighting the various safety measures they're taking for reopening, including how on-premise dining will operate, what menus will be available and hours of operation. It's equally important to link to off-premise options for wary diners as well. To drive more online orders, incentivize diners with promo codes. Ensure that each email has a clear call-to-action that drives the guest to the website to convert into a paying customer. Read more email marketing strategies for restaurants.
Update Google My Business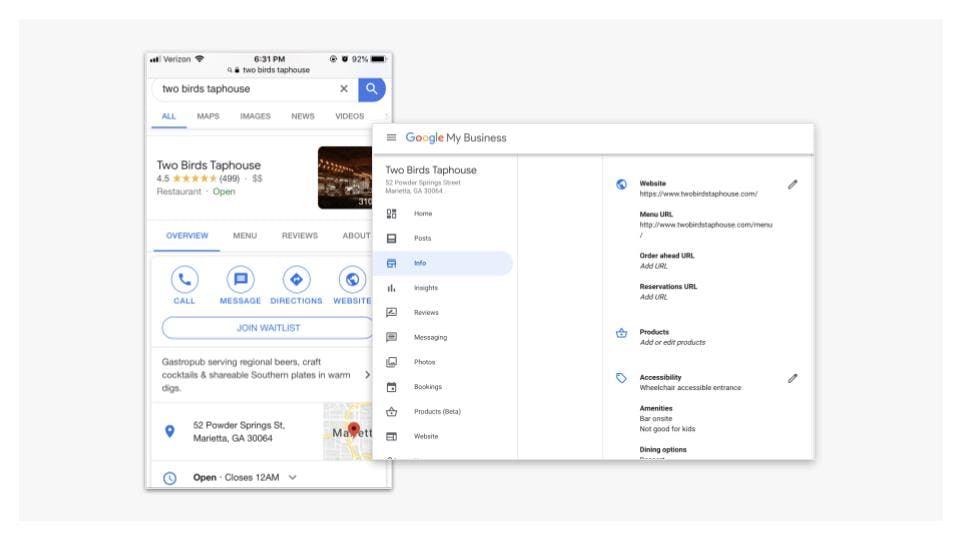 Google is an important part of a diner's lifecycle. For restaurants who haven't established their Google My Business page, it's a powerful way to provide key information to diners. When a potential diner Google searches for a restaurant, they will find the restaurant's address, phone number, website, hours of operation and more. Restaurants can add links to their reservations, online ordering and merch store pages as well. For restaurants who already use Google My Business, ensure it's updated with the latest information around COVID-19 operations.
Updating information across the restaurant's channels is a time-consuming process. Fortunately, there are solutions to this problem. With LocalSync from BentoBox, updating core information across varying platforms is easier than ever. When restaurants update information such as menus, hours of operation, address and phone numbers, LocalSync automatically updates the restaurant's Google My Business, Facebook and Foursquare pages — saving them time and ensuring cohesive information across all channels. Read about more ways restaurants can optimize Google My Business listings here.
Create a Restaurant Reopening Social Media Strategy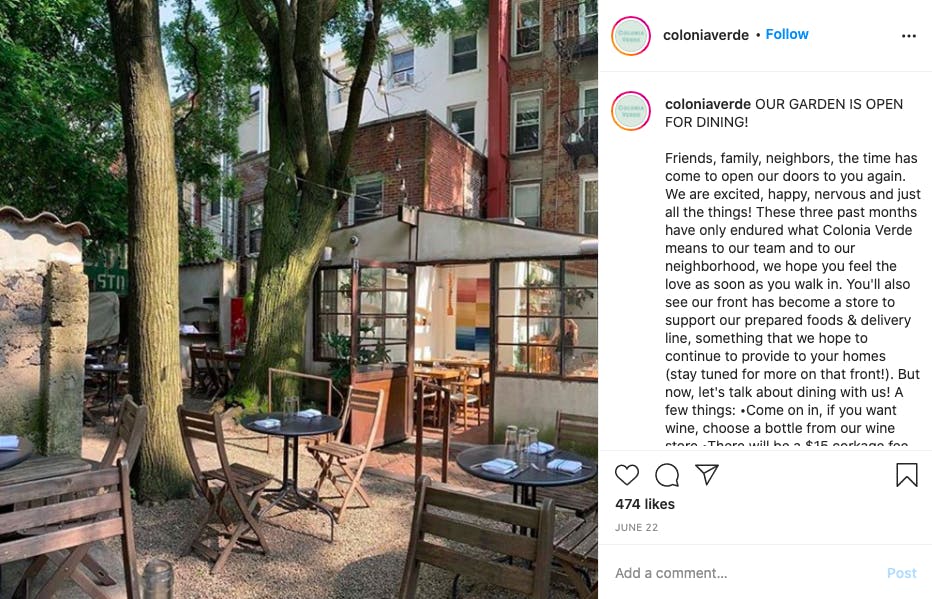 Colonia Verde promotes the reopening of their outdoor dining space on Instagram
Social media is essential to marketing reopening and driving business during COVID-19. A well-constructed strategy should promote the new dining experience and menu offerings in a way that is accurate, catches the diner's attention and prioritizes health and safety. Here are a few content suggestions:
Highlight safety — Show and talk about measures the restaurant has taken to ensure safety for staff and diners.
Spotlight the dining experience — Sidewalk seating? New patio setup? Highlight how diners will experience the restaurant upon reopening.
Menu item spotlights — Highlight new menu items and specials with photos and descriptions.
Employee features — Celebrate staff with images of the team in the act of cooking, plating a dish or shaking a drink. This builds an emotional connection with diners— increasing engagement and loyalty.
Restaurant Signs — Add reopening updates to sandwich boards and share images on social media.
Remember that most diners are finding information about a restaurant via their website. To build more in-depth relationships with those visitors, ensure that the restaurant's social media channels are present and linked from the website. It's a simple way to get more followers and convert them into paying customers. Read more social media marketing tips on our guide.
Takeaway
Maintaining relationships with diners is key to a restaurant's survival during COVID-19. Restaurants can best engage with their audience and drive business by promoting their reopenings through their website, to email subscribers and social media channels. Read more tips in our Restaurant Marketing Guide or talk with a BentoBox specialist today.