← Back
4 Tips to Improve Restaurant Delivery Packaging
Restaurants stress every detail of how they plate food on-premises. As a growing share of food gets eaten off-premises, how can they improve takeout packaging?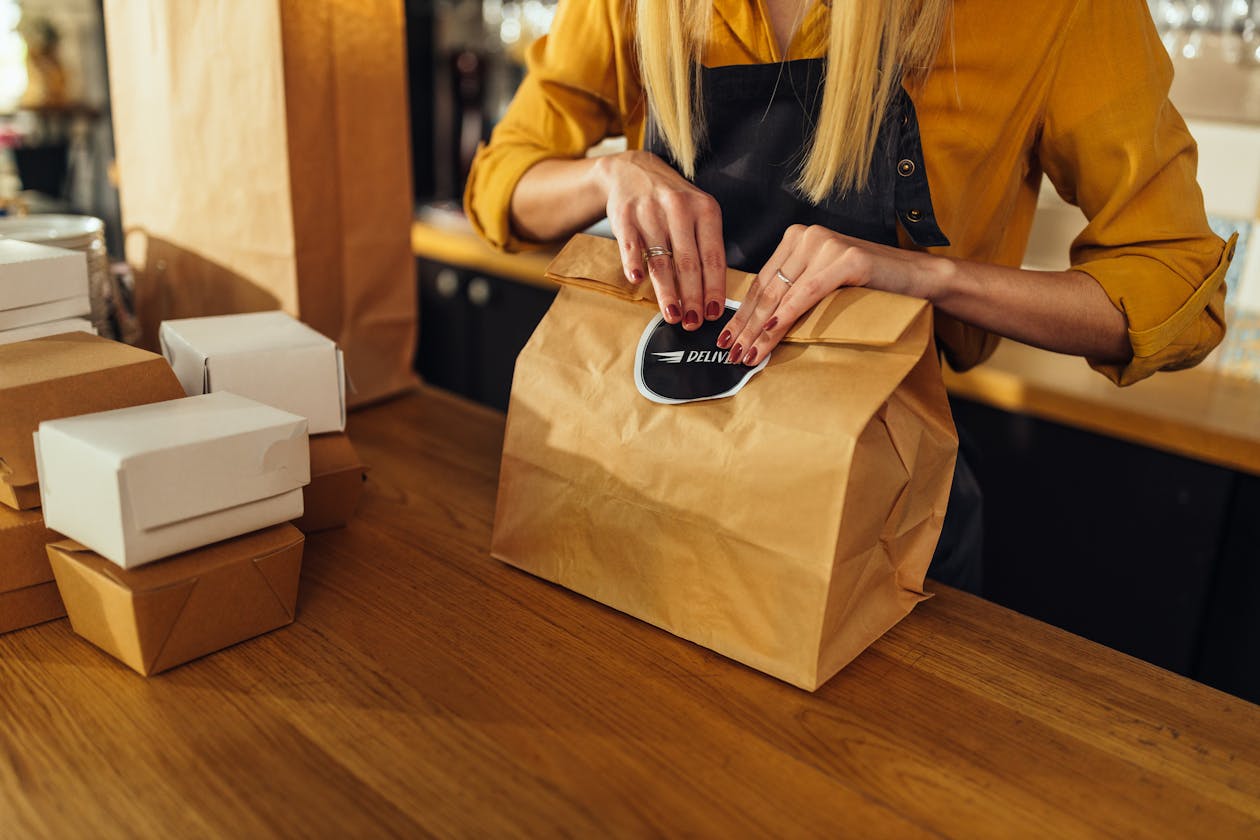 Restaurant delivery has been around for ages — but when COVID hit, it shifted from a nice-to-have to a necessity. With dining rooms around the world closed, hungry customers had to get their favorite food somewhere, and delivery was their lifeline. Countless restaurants have specifically noted that delivery saved their business during the pandemic, which coincided with the closure of more than 90,000 restaurants.
In 2020, approximately 112 million Americans said they used a food delivery service — up 17% from the previous year. And even after 2020, delivery still remains a top priority for both restaurants and their customers. According to QSR Magazine:
53% of adults say takeout and delivery is "essential" to the way they live.

46% of fine dining restaurants added delivery as an option due to COVID.
Meanwhile, despite dining rooms reopening in 2021, Uber Eats sales were higher in 2021 than in 2022:
This all boils down to one simple fact: the restaurant experience is shifting, slowly but meaningfully, off-premises. While restaurants obsess over the silverware, plates, glasses and design in the dining room, not nearly as much thought goes into the delivery experience.
And when it comes to delivery, one of the most important (yet sorely overlooked) elements is restaurant delivery packaging.
Packaging is much more than a means to an end. It's a safety tool to keep food sealed until it gets to the customer. It's also a marketing opportunity, a temperature controller and a chance to innovate.
Here are a few ways to make the most out of delivery packaging to impress new and returning customers alike.
4 Tips for Better Restaurant Delivery Packaging
1. Turn Packaging Into Marketing Material
Customers who get delivery from a third-party app may not have heard of the restaurant until moments before pressing "Place Order." After standing out from similar concepts on these apps and securing the sale, the last thing a restaurant wants is for that customer to never press that button again. That's why restaurants should use their delivery packaging as marketing collateral to cement their brand, earn new followers and create repeat business. Here are three approaches to try out.
Embellish the Restaurant's Logo
Restaurants can use deliveries to cement their brand on packaging and food wrappers. For example, rather than relying on generic packaging, custom designs like Black Seed's bagel wrappers add legitimacy to a restaurant as more than just a generic meal provider.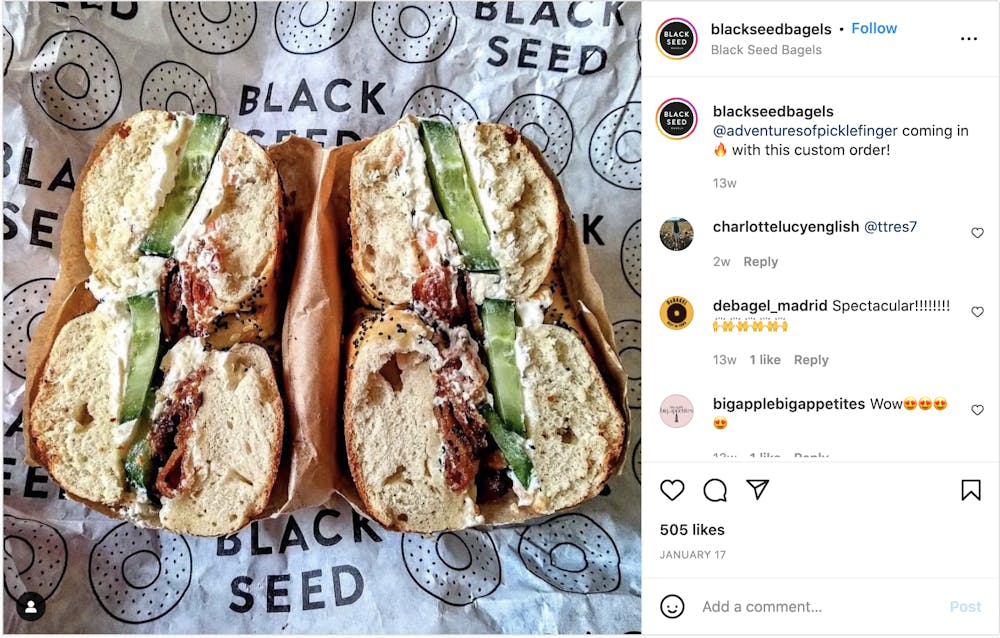 Once an order leaves the door, the restaurant has almost no control over a diner's experience. These designs, however, give restaurants one more spot to add a signature to their work. A good rule of thumb is to have the restaurant's logo somewhere on the packaging so that food doesn't show up in a brown bag and plain white container. If custom packaging isn't an option, a sticker with the restaurant's logo sealing the bag or box for delivery will work in a pinch.
Mention Direct Delivery Options
Delivery apps do help restaurants increase sales, but they come with a roughly 30% commission. Direct online ordering allows restaurants to pocket more revenue from each sale, while also providing email addresses they can use to re-engage diners.
Promoting direct options on packaging can drive first-time and repeat customers to place their next order right through the restaurant. For example, if bags and food packages are stamped with a "Get 10% off your first order when you get delivery from OurRestaurant.com," the restaurant could see a shift away from app orders and towards the restaurant's own online ordering software. This approach was taken by Summer Shack in Boston, which also promoted the revenue-retaining move on Instagram.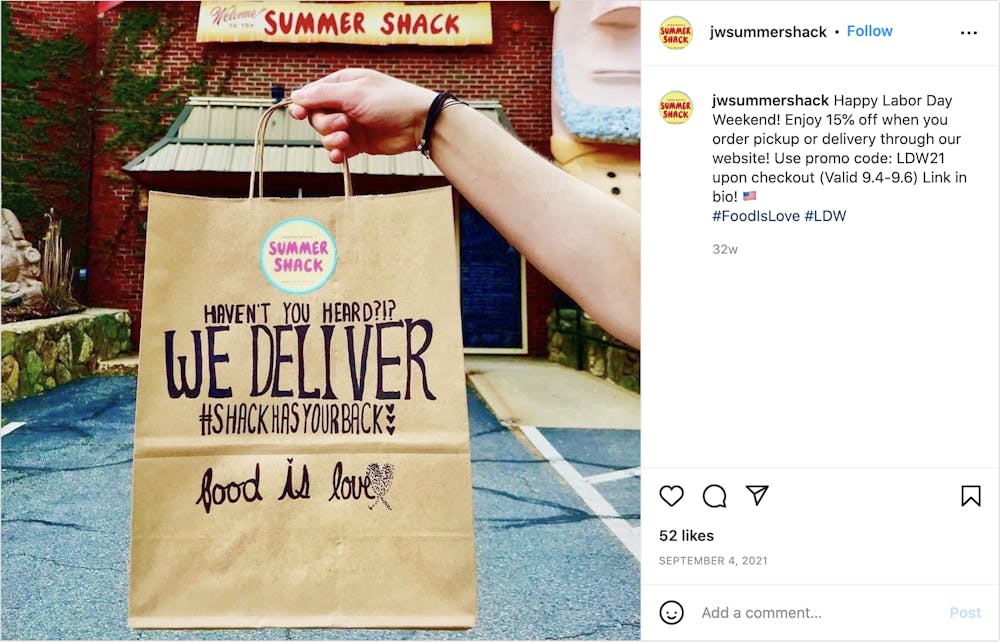 Promote Social Media Accounts
Restaurants can gain more social media followers by printing the restaurant's Instagram handle on delivery packaging. This grows the restaurant's social audience and keeps the business fresh on fans' feeds.
Delivery opens the door for direct marketing to these newfound followers — including the chance to promote specials and (as mentioned above) the restaurant's own online ordering platform. Boston restaurant Shy Bird does this with a simple "Follow Along @HeyShyBird" on its to-go bags, and it has the thousands of followers to prove the effort's worth. Having big, bolded text clearly laying out the restaurant's Instagram handle makes the follow sound enticing, especially if the contents of that bag are as delicious as promised.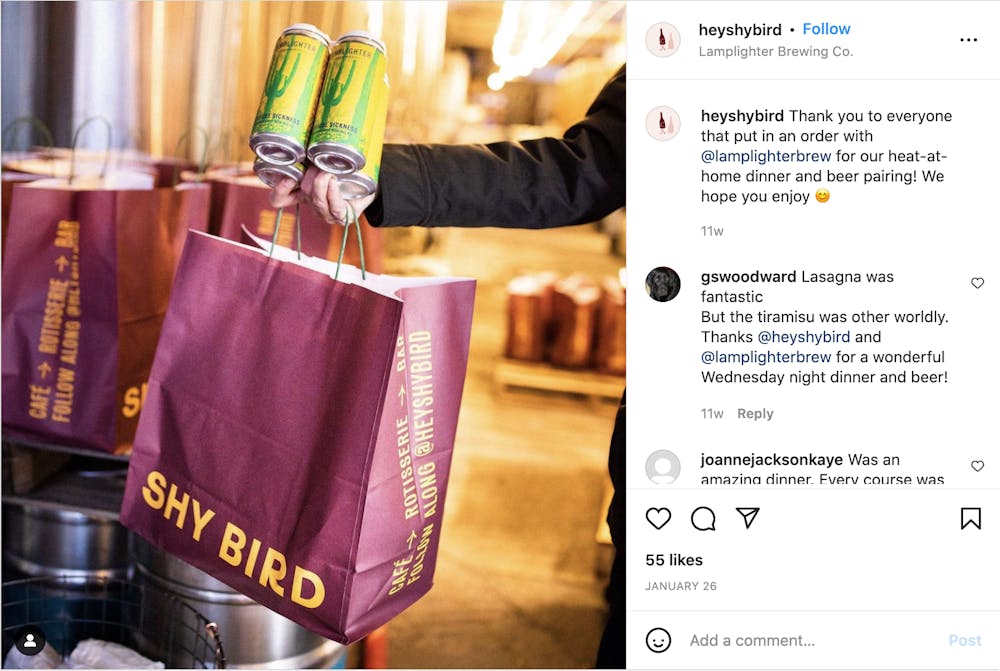 2. Prioritize Sustainability
In a survey conducted by the National Restaurant Association, restaurant owners predicted that "sustainable, reusable and recyclable packaging" would be the No. 1 food trend of 2022. Younger generations, who rely more on delivery than older generations, are particularly focused on this area. According to EY, 61% of millennials and Gen Z consider the amount of packaging in a product before buying it.
For diners, there's even an app called JYBE, which helps them find restaurants using sustainable takeout packaging and provide feedback on how sustainable their containers are.
According to JYBE users, restaurant chains like Domino's, Popeyes and Taco Bell are all contributing to sustainability efforts through smarter packaging. Taco Bell even has a page on its website explaining its efforts by using recyclable takeout bags and committing to making all "customer-facing packaging recyclable, compostable or reusable" by 2025.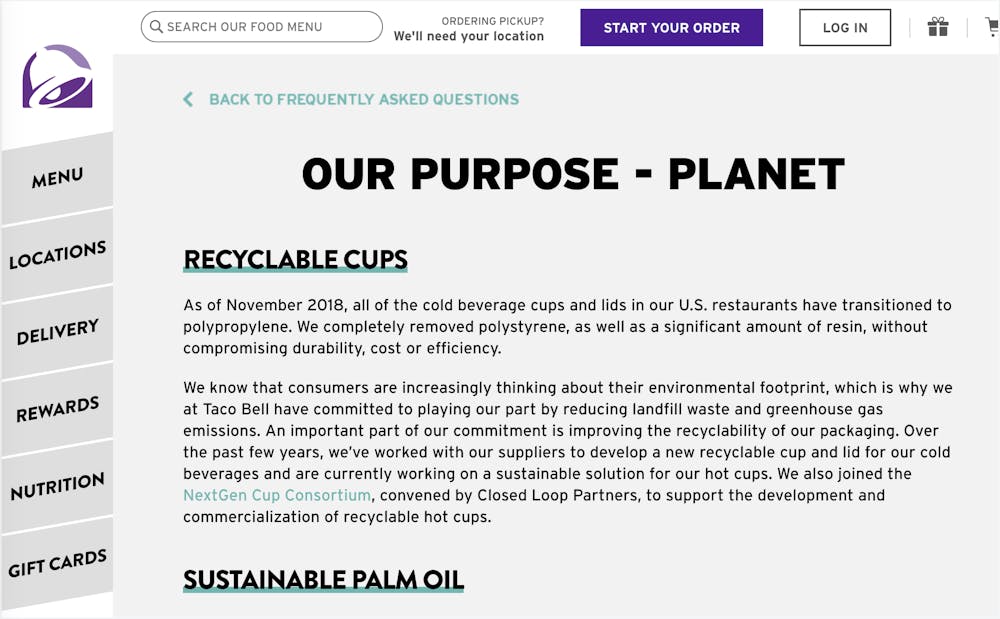 Compostable, biodegradable and sustainable takeout packaging might cost more up-front, but given the massive interest by certain demographics, the effort could win and delight new customers — especially when diners get a delivery and see a recycle symbol on the box.
Another option is to provide diners with the choice of getting their food delivered in sustainable packaging for a small upcharge. Since one-third of consumers are willing to spend a premium for sustainability, this route provides an affordable way for restaurants to appeal to more diners and help the environment.
As for finding a good place to purchase sustainable materials for a restaurant, JYBE itself sells sustainable containers and supplies on its online store. Other sites like Good Start Packaging and Green Paper Products also provide options for sustainable shipping containers.
BentoBox Online Ordering
Drive more revenue through commission-free online ordering & delivery.
3. Maintain Meal Temperature
While food delivery allows customers to enjoy a restaurant-prepared meal without leaving the comfort of their homes, the sacrifice comes in the form of a waiting game.
On average, Grubhub customers wait more than 50 minutes for their food, meaning that it could take more than half an hour after food is ready until it gets to a customer's front door. A customer who was eagerly awaiting a piping-hot meal could be sorely disappointed by the time their delivery driver shows up.
The aforementioned report from the National Restaurant Association found that meals retaining their intended temperature is another top trend for 2022 — and this makes sense. Between hot foods and cold foods sharing the same bag (or even the same container) and long waits for food to arrive, temperature drop-offs are a real challenge.
There are two ways to alleviate this issue and preserve meal temperature. First is to wrap foods with different temperatures separately. This might include packaging grilled chicken for a caesar salad in another container than the lettuce and croutons, as well as wrapping the chicken in an aluminum container to help keep its heat.
If foods with different temperatures must go in the same package, this is where the second option of separating foods within the same container comes in. This can be done by adding sub containers to each package — like what Federalist Pig does when separating its warm quesadillas from cooler sauces.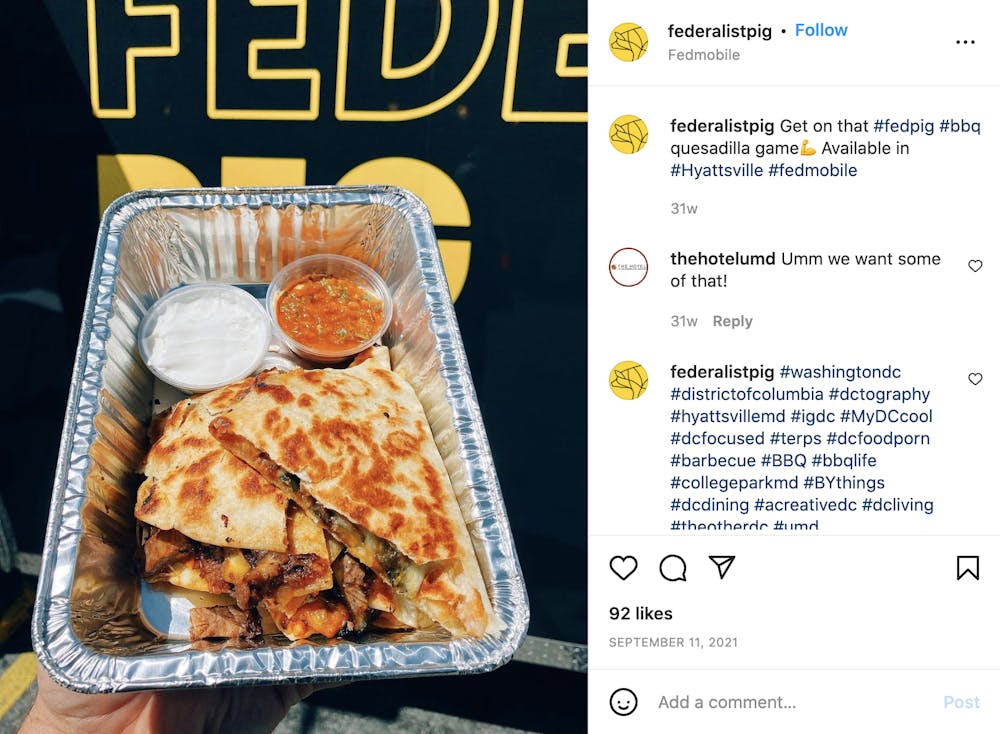 The other choice is to use takeout containers that come with pre-divided compartments, like these bento boxes from Restaurantware. Sturdy and well-divided packages like these allow diners to open up one package instead of several when their delivery arrives, but they also keep items of different temperatures from touching each other in transit.
4. Preserve Food Quality
Another key trend highlighted by the National Restaurant Association for 2022 was preserving food quality during the delivery process. Specifically, diners want their food to travel intact and untouched.
In response to the surge in delivery demand (and reports that some delivery drivers are too easily tempted), some restaurants like Chipotle started sealing their bags to be "temptation-proof."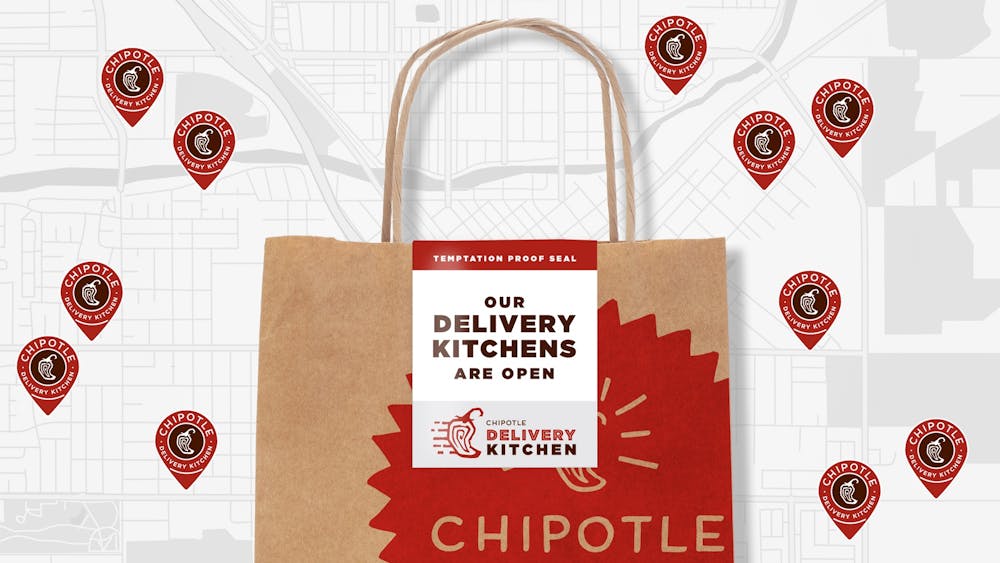 Safety measures like wraps, staples and stickers provide certainty to customers, who know that when food gets to their address, the last person to touch it was a restaurant professional who handled it with care. These security stickers are an affordable food insurance policy — a roll of 250 customized logos costs as little as $3.
Plus, customers don't want food to have shifted in its container before it arrives. This is especially true for side sauce containers, which shouldn't spill in the box or bag. To offer an extra layer of food protection, it's best to invest in sealable, tamper-proof containers. Webstaurant Store has a section of its website dedicated to containers that offer an extra strong seal for a more successful delivery, as well as sealable drink bags for customers getting beverages delivered.
Making the Most of Food Delivery Packaging
Even with dining rooms open and customers flocking back to their favorite restaurants for in-person enjoyment, off-premises dining is here for the long haul.
Every restaurant concept — from greasy spoons to upscale fine dining — is positioned to drive substantial revenue from delivery, but none of that matters if food arrives in shambles or uninspired packaging. Plus, restaurant delivery packaging can help grow the business by earning new followers and showcasing the business' commitment to sustainability.
These are just a few considerations to keep in mind and help take a restaurant's delivery packaging from serviceable to exceptional. What might seem like a straightforward solution of paper and cardboard is actually a secret weapon for retaining business and growing revenue down the line.